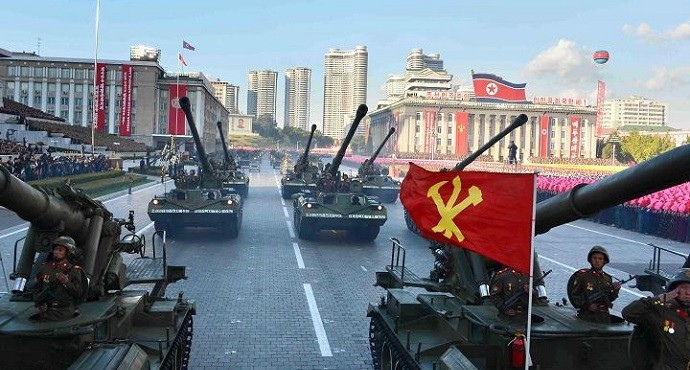 North Korea staged a "large-scale artillery drill" to mark the founding of the country's army, amid rising tensions with the West.
Washington, Tokyo and Seoul on Tuesday agreed to strengthen the deterrent power of the Japan-U.S. and U.S.-South Korea alliances against North Korea through joint exercises with U.S. aircraft carriers and other measures.
Pyongyang reportedly marked the 85th anniversary of the founding of its military on Tuesday by conducting a large artillery drill. North Korea also issued new warnings that it would defend itself against the "American imperialists," amid high tensions and a military buildup in the region.
North Korea marked its anniversary of the founding of its military with artillery drills as a U.S. guided missile submarine docked in South Korea and U.S. Navy ships conducted exercises with South Korea and Japan.
At a meeting in Tokyo, senior diplomats of the United States, Japan and South Korea also confirmed the three countries' stance of taking resolute action against North Korea if it makes further provocations following its repeated missile launches and nuclear testing.
The diplomats included Kenji Kanasugi, director general of the Japanese Foreign Ministry's Asian and Oceanian Affairs Bureau; Joseph Yun, U.S. special representative for North Korea policy; and Kim Hong Kyun, South Korea's special representative for Korean Peninsula peace and security affairs.
"We agreed that we will coordinate all actions – diplomatic, military, economic -regarding North Korea," Joseph Yun, US special representative for North Korea policy, said after meeting his Japanese and South Korean counterparts.
Earlier, the U.S. Navy announced that the USS Michigan, an Ohio-class guided-missile submarine, had arrived in the South Korean port of Busan "for a regularly scheduled port visit." The nuclear-powered submarine the USS Michigan is built to carry and launch ballistic missiles and Tomahawk cruise missiles.