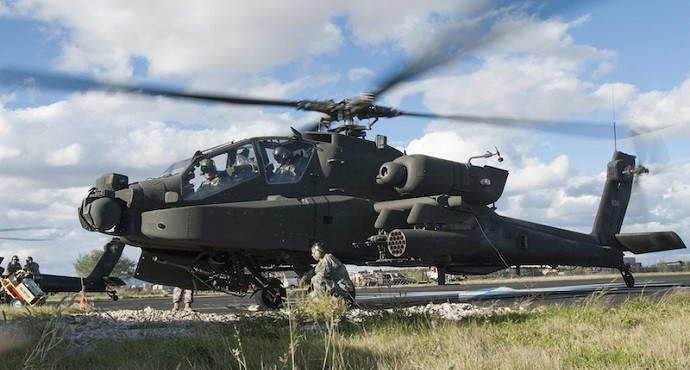 The U.S. State Department has approved $930 million worth deal for India to buy Boeing AH-64 Apache attack helicopters and associated weapons, sensors, mission systems and simulators.
Under a $930 million direct commercial sales agreement announced June 12, Boeing is approved to sell India six Apaches, according to the Defense Security Cooperation Agency.
Besides six AH-64E Apaches, India will receive a variety of engines, radars, missiles, sensors, and other technology related to the helicopters.
Pentagon's Defence Security Cooperation Agency (DSCA) notified the Congress about the State department's decision in this regard.
Several rockets, training and dummy missiles, 30-mm cannons and ammunition, transponders, simulators, communication equipment, spare and repair parts, tools and test equipment, support equipment, repair and return support, personnel training and training equipment, publications and technical documentation, U.S. Government and contractor engineering and logistics support services, and other related elements of logistics and program support are included in the deal.
"This proposed sale will contribute to the foreign policy and national security of the United States by helping to strengthen the U.S.-Indian strategic relationship and to improve the security of an important partner which continues to be an important force for political stability, peace, and economic progress in South Asia," DCSA said in the announcement.
"This support for the AH-64E will provide an increase in India's defensive capability to counter ground-armored threats and modernize its armed forces. India will have no difficulty absorbing the helicopters and support equipment into its armed forces."
U.S.-based defense contractors that will work on the deal include Lockheed Martin, General Electric, Longbow LLC and Raytheon.