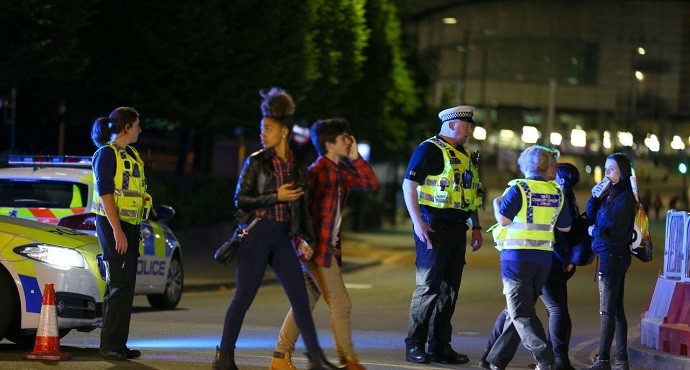 Explosion being treated as a terrorist incident as eyewitnesses describe chaos and horror
At least 22 people are dead and 59 were wounded after a reported explosion at the Manchester Arena in northern England, where American pop star Ariana Grande was performing Monday, according to a statement from Greater Manchester Police.
"We are currently treating this as a terrorist incident until we know otherwise," Chief Const. Ian Hopkins said. "We are working closely with the national counter-terrorism policing network and UK intelligence partners."
Hopkins confirms that children are among the 22 people confirmed to have died.
Latest statement on incident at Manchester Arena @CCIanHopkins pic.twitter.com/GEABqAk5rr

— G M Police (@gmpolice) May 23, 2017
Amber Rudd, UK home secretary, said the Manchester explosion was a "barbaric attack, deliberately targeting some of the most vulnerable in our society".
The Manchester Arena attack is UK's worse terror since 7/7 in more than a decade where 56 people were killed by suicide bombers in June 2005.
British Prime Minister Theresa May said: "We are working to establish the full details" of what happened in Manchester."
"All our thoughts are with the victims and the families of those who have been affected."
Witnesses reported hearing two loud bangs coming from near the arena's bars at about 10:35 p.m. but there were few other details. Emergency vehicles were helping the injured and bomb disposal units were later seen outside the venue.