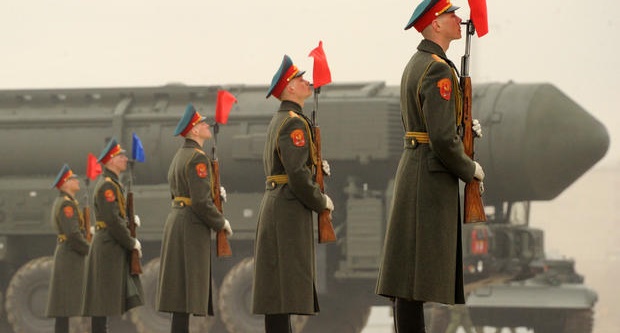 Russia to drastically boost intercontinental ballistic missile tests
Europe, News
January 11, 2016
No Comments
Russia's missile corps plans to conduct 16 intercontinental ballistic missile launches in the year 2016 – a two-fold increase from 2015. Over 100 command, tactical and special exercises will be held to maintain maximum readiness throughout the year.
"The drills are going to be conducted in a tense and complicated environment, with the involvement of interacting joint force grouping," the Defense Ministry reported.
The Russian Strategic Missile Troops planned 16 test launches of intercontinental ballistic missiles, taken into service, in 2016, the Russian Defense Ministry told journalists.
"For 2016 we planned 16 test launches it intercontinental ballistic missiles, including flight test procedures for advanced weapons, and control of the technical readiness of missile systems that entered service. The number of test launches should increase next year," the Ministry of Defense said. At the same time next year, the Strategic Missile Troops plan to conduct more than 100 command and staff, tactical and special exercises.
Out of a total 16 launches, 14 will be performed as part of the development of new missiles and warheads, Strategic Missile Troops Commander, Colonel General Sergey Karakayev, told journalists earlier. Two launches will form part of a service life extension program of existing systems.
Some of the test launches are likely to be dedicated to the development of the RS-28 Sarmat, Russia's newest heavy liquid-propelled intercontinental ballistic missile. It has been engineered to replace the old Soviet R-36M missiles, dubbed 'Satan' by NATO, as the heavy silo-based component of the Russian nuclear deterrent. The Sarmat missile has been in development since 2009 and is scheduled to start replacing the old ICBM's in 2018.
The press service specified that modes of combat duty at highest operational readiness rates of more than 40 missile regiments and units will be worked out during each training period in 2016. In addition, in 2016, the Strategic Missile Troops will continue the practice of unannounced inspections of military combat readiness.