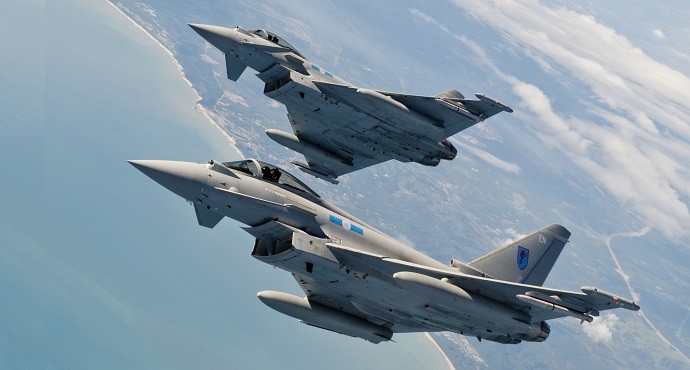 Qatar has bought 24 Typhoon fighters from Britain in a deal worth $8billion.
Qatar has signed a multi-billion-dollar deal to buy 24 Typhoon fighters from Britain.
This is Qatar's second major defence agreement this week, which comes amid heightened tensions in the Gulf
The $8-billion (6.8-billion-euro) deal was signed in Doha by Qatar's Defence Minister Khalid bin Mohammed al-Attiyah and his British counterpart, Gavin Williamson.
Williamson said the biggest order for Typhoons in a decade follows a billion-dollar deal signed on December 7 in which Qatar bought 12 French Dassault Aviation warplanes.
The deal also includes an intention for Qatar to buy further military equipment from Britain, namely the purchase of Hawk aircraft.
"These formidable jets will boost the Qatari military's mission to tackle the challenges we both share in the Middle East, supporting stability in the region and delivering security at home," Williamson said.
The deal for the Typhoon jets also includes training of air force personnel, the statement said.
Qatar's purchase of 24 jets includes a support and training package from BAE, with deliveries due to start in 2022.
BAE Systems chief executive Charles Woodburn said the contract, worth £5bn to the company, was the start of a long-term relationship with Qatar and its armed forces.
"This agreement is a strong endorsement of Typhoon's leading capabilities and underlines BAE Systems' long track record of working in successful partnership with our customers," he said.
Qatar and UK have also agreed to create a Joint Operation Squadron, the start of a partnership between Qatar's air force and Britain's Royal Air Force (RAF).
"The squadron tackles all air combat operations, ensuring combat readiness for all Qatari and British pilots and technicians," said the statement.
Qatar said on Thursday it would buy 12 Dassault Rafale fighter jets from the French aviation company in a deal worth $1bn.