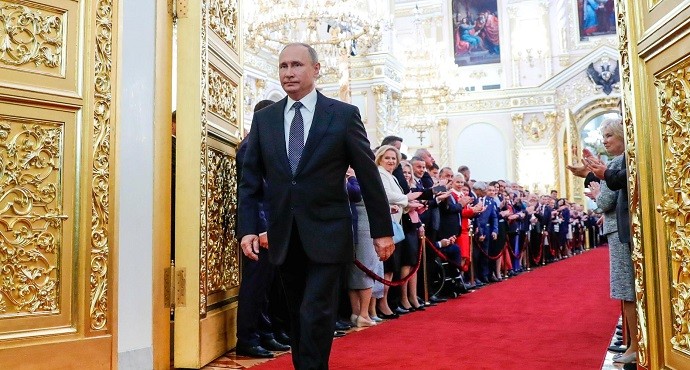 Russian President Putin sworn in for another six years in office
Russian President Vladimir Putin took the oath of office for a fourth term as president, promising to pursue an economic agenda that would boost living standards across the country.
The inauguration ceremony for President Putin was held in the Moscow Kremlin on May 7 where he walked through the red-carpeted Kremlin corridors and into a hall packed with about 6,000 invited, cheering guests.
Putin, a former KGB agent, has been in power for 18 years, as president and prime minister, and opponents have likened his tenure to the reign of a tsar, or emperor.
In a ceremony in an ornate Kremlin hall in Moscow, Putin said improving Russia's economy following a recession partly linked to international sanctions would be a primary goal of his next six-year term.
In his address to the citizens of the Russian Federation, Putin called Russia a country of "grandiose victories and accomplishments" and thanked the Russians for their support at the last presidential election. "In this support, there is faith and hope that Russia will continue to strengthen its power, and people will live better," he said.
Putin was re-elected president with more than 76% of the vote, his best ever election performance, but widespread irregularities such as allegations of ballot-rigging were reported by some international observers.
The opposition leader, Alexei Navalny, was barred from standing against Mr Putin, on grounds of a conviction for embezzlement which he denies. Hundreds of his supporters were also detained by police while protesting over Putin's new term under the slogan: "Putin is not our tsar."