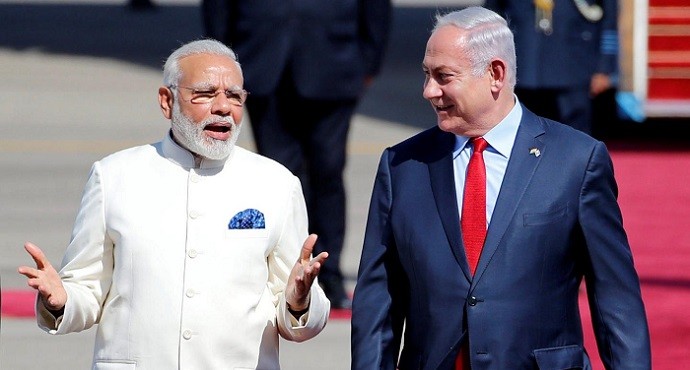 Indian and Israeli leaders vow to deepen cooperation in technology, counter-terror efforts and agriculture
Defense has long been the hallmark of Israeli-Indian ties, but a string of deals signed this week reflected wider cooperation that could benefit India in the field of science, technology, agriculture and water systems.
The landmark visit by the Indian prime minister to the Jewish state was aimed at bolstering anti-terror and economic cooperation. The visit and agreements celebrate the 25 years of diplomatic relations and to bring Israel and India even closer.
The cooperation marks a "marriage made in heaven," said Israeli Prime Minister Benjamin Netanyahu, speaking alongside his Indian counterpart, Narendra Modi.
"India and Israel are walking hand in hand into the future as partners," Modi and Netanyahu wrote in a joint editorial this week. "From start-ups to space, communications to cybernetics, Israel's technological capabilities are merging with India's."
The agreements included the decision to create a bilateral technology innovation fund worth $40 million for research in industrial development, and to establish a strategic partnership in water and agriculture to focus on water conservation, waste-water treatment.
Indian PM Modi said, "We are aware of strategic threats to regional peace and stability. India has suffered firsthand the violence and hatred spread by terror.
"Prime Minister Netanyahu and I agreed to do much more together to protect our strategic interests, and also to cooperate to combat growing radicalization and terrorism, including in cyberspace."
Traditionally, Israel has been a major supplier of defense equipment to India but now the two countries are expanding cooperation in other areas as well.
Richard Rossow, senior adviser and Wadhwani Chair in U.S.-India Policy Studies at CSIS, told CNBC: "Israel's becoming a more important defense partner for India, a source of great technology, not just in the defense space, but in biotechnology (and) agriculture."
The two Prime Ministers also discussed the developments pertaining to the Israeli-Palestinian Peace Process, according to the official statement.
"They underlined the need for the establishment of a just and durable peace in the region. They reaffirmed their support for an early negotiated solution between the sides based on mutual recognition and security arrangements" the statement read.