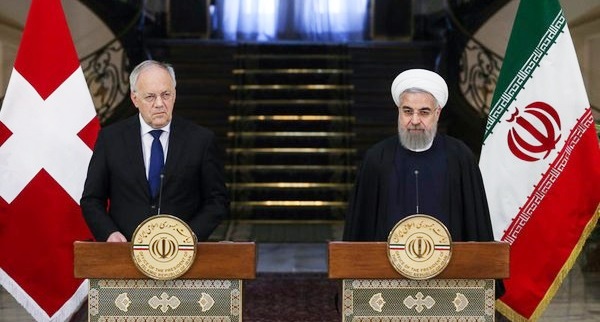 Switzerland and Iran have decided to boost talks aimed at closer bilateral relations, including political, trade and human rights.
Iranian President Hassan Rouhani and his Swiss counterpart Johann Schneider-Ammann agreed on a roadmap that can pave the way for enhanced political and economic relations between the two countries, even in the international arena.
During a two-day visit to Tehran by a high-ranking Swiss delegation, President and Economics Minister Johann Schneider-Ammann said both sides agreed a 'road map' for further talks on the ratification of a trade accord signed in 2005.
Speaking after a meeting on Saturday with Iran's president, Hassan Rouhani, Schneider-Ammann stressed the importance of visa facilitation for businesses.
The purpose of Schneider's visit "is to relaunch various dialogues between Switzerland and Iran," the former's Department of Economic Affairs, Education and Research said in a statement quoted by Reuters.
"These include an economic and financial dialogue and a human rights and justice dialogue; a dialogue on migration issues is already underway," the statement added.
Schneider-Ammann sees opportunities for Switzerland's pharmaceutical, chemical and food industries as well the energy sector in Iran, he told the Swiss News Agency.
Iranian officials indicated Saturday they were also looking to re-establish banking ties with Switzerland, seen as key to integrating into the world financial system.
The head of Iran's central bank Valiollah Seif said recent legislation ratified in Tehran boosting transparency in the banking sector would allow the Swiss to remove Iran from a blacklist of financial supporters of terrorism, the Iranian state-run IRNA news reported.
In January, the Swiss government decided to release Iranian funds of CHF12 million ($12.1 million) frozen in Swiss bank accounts.
However, Iran is still to appoint a new ambassador to Switzerland, according to this report.
Iran, Switzerland sign MoU on shipping, sea transport cooperation
The Islamic Republic of Iran and Switzerland signed on Sunday a memorandum of understanding (MoU) on expansion of shipping and sea transport cooperation, IRNA reported.
The two sides exchanged views on expansion of cooperation on transport, construction of Express train, renovation of road transport, and carrying development plans on infrastructure and rebuilding the ports.
The MoU was signed between Iran Ports and Maritime Organization (IPMO) and Swiss MSC shipping lines as the second biggest shipbuilding company.
The MoU gives green light to Swiss shipping companies to come to Iran for joint venture cooperation after implementation of the Joint Comprehensive Plan of Action.
MSC is one of the biggest shipping companies in the world with 14.9 percent share of the global market in marine transport and have terminals in some 55 ports around the globe.
Foreign business delegations have flocked to Tehran since the United States, European Union and United Nations lifted international sanctions in January after reaching a deal to curb and monitor Iran's disputed nuclear programme.