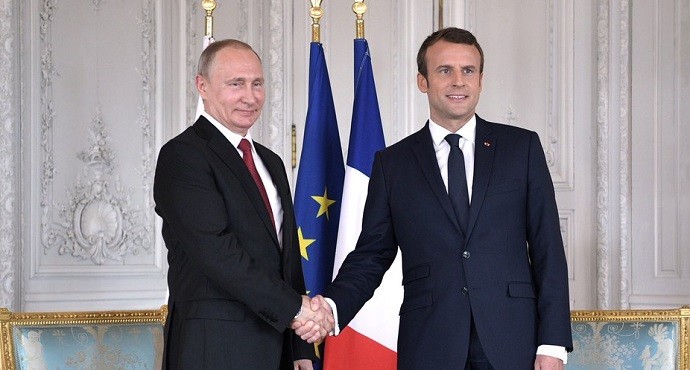 Russia, France sign series of deals after Putin-Macron talks in St. Petersburg.
Relations between Moscow and Paris are evolving against all odds, Russian President Vladimir Putin said at a meeting with his French counterpart Emmanuel Macron in the Konstantinovsky Palace in St. Petersburg.
Russia and France have signed six contracts for direct investment into Russia worth about €1 billion as part of the ongoing business forum in St Petersburg and the coinciding visit of the French president.
The billion-euro ($1.17 billion) sum of the deal was reported on Tuesday by Kirill Dmitriev, the head of the Russian Direct Investment Fund. The six contracts were signed at the St. Petersburg International Economic Forum (SPIEF), which is being held in the former Russian capital on Tuesday and Friday.
French Total acquires 10 percent of Russian Arctic gas project for $2.55bn
French oil and gas giant Total has signed a $25.5 billion agreement with Russia's Novatek on joining the Arctic Liquefied Natural Gas-2 project. Total will acquire a 10 percent stake in the enterprise, with the possibility of increasing it to 15 percent, Leonid Mikhelson, the CEO of Novatek, said, as cited by RIA-Novosti.
Russia's atomic agency Rosatom and the French Alternative Energies and Atomic Energy Commission have signed a strategic paper on partnership in cooperation in the field of use of peaceful atomic energy.
France, Russia vow to press coordination efforts on Syria
France and Russia aim to create a coordination mechanism between world powers to push ahead with finding a political solution in Syria, French President Emmanuel Macron said on Thursday.
Macron said the idea was to coordinate efforts carried out by the Astana process that comprises Russia, Turkey and Iran and the "small group", which was initiated by France, and comprises Britain, Germany, Jordan, the United States and Saudi Arabia.
"We need to be talking about the situation after the war. The key is to build a stable Syria," Macron said at a news conference alongside Russian President Vladimir Putin.
Macron said the two agreed that focus should be on a new constitution and setting up inclusive elections that would include all Syrians, including refugees.