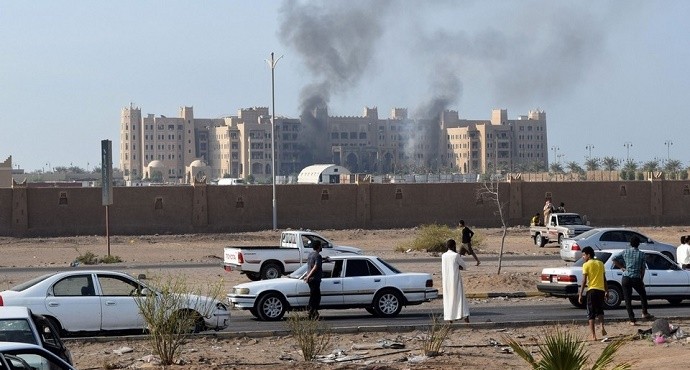 Yemen hotel that houses government officials hit by deadly attack
Three rockets slammed into Yemen's port city of Aden on Tuesday, including one that struck a hotel used by Yemen's prime minister and two military installations have killed 15 Saudi-led coalition troops and pro-government fighters, UAE state media say.
At least 15 people were killed in the attack Tuesday on the Al Qasr hotel, according to the United Arab Emirates' official news agency WAM.
Four UAE soldiers were among the dead, the agency said. And the Saudi official press agency SPA said one Saudi soldier was killed.
Prime Minister Khaled Bahah and all of the Yemeni government officials were unharmed and were immediately evacuated from the hotel, Transport Minister Badr Basalma told CNN.
There were conflicting reports about the causes of the blasts, and no immediate claim of responsibility.
Yemeni government spokesman Rajeh Badi told the Associated Press that rockets were fired at the three locations from outside the city limits.
The UAE's minister of state for foreign affairs blamed the attacks on the Houthi rebel movement and allied army units loyal to former President Ali Abdullah Saleh.
Fighting between the Houthis and forces loyal to Hadi has raged across the country, enabling terrorist groups like al Qaeda in the Arabian Peninsula and ISIS to exploit the security vacuum.
Almost 4,900 people, including 2,355 civilians, have been killed in coalition air strikes and fighting on the ground in Yemen over the past six months, according to the UN.