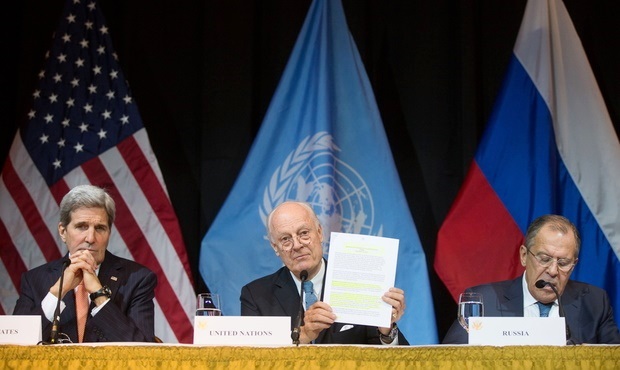 Foreign ministers from 19 countries have agreed to a plan to bring peace to Syria following the terrorist attacks in Paris.
VIENNA (Austria) — Foreign ministers of nearly 20 nations agreed Saturday to an ambitious yet incomplete plan for bringing peace to Syria and ending its role as a breeding ground for the Islamic State and other radical Islamic groups.
The peace plan for Syria, which includes a transitional government in six months and elections in 18 months.
In a joint statement after the terrorist attacks on Paris, the countries involved in the talks, including Saudi Arabia, Iran, Turkey and the five permanent members of the UN Security Council, also said they would push for formal talks between Bashar al Assad's government and opposition groups by January 1.
Countries such as Iran and Saudi Arabia, which support different sides in the conflict, put aside their dispute to condemn the bombings and shootings that left at least 127 people in the French capital dead Friday. So did Moscow and Washington.
Standing next to Russian Foreign Minister Sergey Lavrov ahead of Saturday's full ministerial meeting, U.S. Secretary of State John Kerry called the attacks "the most vile, horrendous, outrageous, unacceptable acts on the planet". He said they "encouraged us today to do even harder work to make progress and to help resolve the crises that we face."
The fresh round of talks on the Syrian crisis opened in Vienna with the participation of senior representatives from 17 countries, the UN, EU and Arab League.
Abdulbaset Sieda, a member of the  Western-backed opposition Syrian National Coalition (SNC), said the timeframe was too ambitious.
"I am not sure it will be in 18 months' time. Of course we need to be hopeful for the future, but we need more time," he said on the sidelines of the Vienna talks.
Western and Arab countries want him out of the way to let a transitional government unite the country behind a reconciliation process and defeat IS.
But Russia, carrying out air strikes against Syrian rebels since late September, is sticking by Assad along with Iran, which does not want a Sunni-controlled Syria.
"Obviously those of us who met in Vienna today… did not agree on all issues when it comes to Syria. We still differ obviously on the issue of what happens to Bashar al-Assad," said Kerry.
"This war cannot end as long as Bashar al-Assad is there," he said.
Kerry said comments by Assad blaming France's actions in Syria for the attacks in Paris, showed he "is not fit to be the leader of his country."
The next meeting on Syria is expected in about a month.