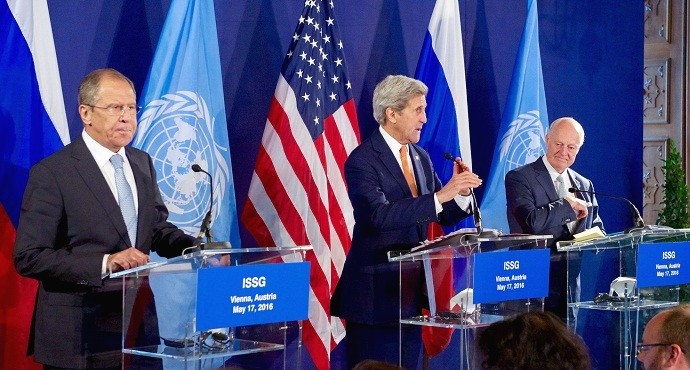 Syria meeting ends in Vienna without new date for peace talks or a concrete agreement on the Syrian civil war and the future of Assad
Foreign ministers from Europe, the Middle East and the United States have failed to set a new date for peace talks between opposing Syrian parties, the U.N.'s special envoy said after a meeting in the Austrian capital on Tuesday.
"The issue is still waiting for some type of concrete outcome of this meeting but we cannot wait too long, we want to keep the momentum," UN's Syria envoy Steffan de Mistura told reporters alongside U.S. Secretary of State John Kerry and Russian Foreign Minister Sergei Lavrov.
The failure to agree on date for peace talks is damaging for distressed Syrians. Aleppo has seen an escalation in attacks by regime forces and their allies over the last two weeks, resulting in hundreds of civilian deaths. The ongoing violence also killed dozens of patients and medical workers in Aleppo's al-Quds hospital.
Major powers sought at talks on Tuesday to re-impose a ceasefire in Syria and ensure aid reaches besieged areas, with Moscow and Washington deeply divided over the fate of Bashar Assad and violence rumbling around the country. The aim of the conference is to convince armed factions and opposition leaders to restart negotiations with the government.
U.S. Secretary of State John Kerry said at the end of the talks that there was an agreement on "consequences for any side's actions that have an agenda other than trying to reach an agreement and trying to reach peace."
Kerry stressed that all of the parties to the conflict "have agreed on a basic framework" for a transitional governing body that would create a united, non-sectarian Syria. "The challenge that we face now," Kerry noted, "is to transform these possibilities into the reality of an agreement, at some point."
Russia, which has shown solidarity with Syrian President Bashar al-Assad, hit back, with foreign minister Sergei Lavrov criticising opposition groups for setting preconditions to their participation.
"We stressed the need to send a strong message to the part of the opposition that's trying to put forward ultimatums and formulate preliminary conditions. We felt that our US colleagues understand the importance of making sure that all agreements are strictly followed, including the need for the presence of all opposition representatives at talks with the government delegation."
The meeting was led by US secretary of state, John Kerry; Russia's foreign minister, Sergey Lavrov and UN special envoy to Syria, Staffan de Mistura, as well as other leaders from the 17-nation International Syria Support Group (ISSG) which includes the U.K., France, EU, the Arab League, Iran, Turkey and Saudi Arabia.
After making headway a day earlier on how to help Libya overcome its long-running conflict, the world's foreign ministers turned their attention to Syria but failed to agree.
The United States and Russia co-chaired a meeting of the International Syria Support Group, which aims to restore a truce across the country and get aid into besieged areas.
The leaders confirmed their support for an end to the violence and the need for immediate humanitarian access to besieged communities inside Syria.
Mohammad Javad Zarif, Iran's foreign minister, said his country supported the truce and a peace dialogue, but warned that a silencing of arms might aid certain opposition groups operating in Syria.
A ceasefire was agreed upon with great difficulty in February 2016. However, violence has increased recently with Syrian Army and rebel groups fighting over territory. Major air strikes in Aleppo by either U.S. or Russia coalition led to civilian casualty, forcing UN envoy Staffan de Mistura urging the two countries to hasten the peace talks.
The Syrian Observatory for Human Rights (SOHR) says more than 500 poeple. have been killed in Syria since April 2016.
In the past weeks, more than 300 people have been killed in government air strikes in Aleppo province alone, while deadly fighting has also raged in other parts of Syria, including Idlib, Deir Az Zor and the outskirts of Damascus.