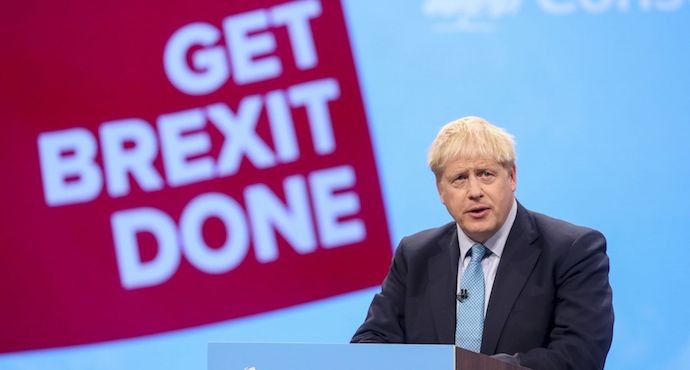 British Prime Minister Boris Johnson said on Friday that his government has won a powerful new mandate to get Brexit done.
Johnson, whose Conservative Party stormed back to power with a clear majority, has promised that Britain will leave the EU on January 31 which means the four countries that make up the United Kingdom — England, Scotland, Wales and Northern Ireland — will cease to be members of the 28-nation European Union that Britain helped establish decades ago.
"We will get Brexit done on time on the 31st of January — no ifs, no buts, no maybes," Mr. Johnson said early Friday morning.
The Conservatives, or Tories, swept up more seats in the House of Commons than they've had since the 1980s, winning about 360 of the 650 available seats.
Scottish National Party raise questions of independence
The Scottish National Party's leader, Nicola Sturgeon, said that in the next week her administration would publish its plan for holding an independence referendum. "Scotland has rejected Boris Johnson and the Tories. and yet again we have said no to Brexit," she said at a news conference.
"I accept, regretfully, that he has a mandate for Brexit in England," she added. "But he has no mandate whatsoever to take Scotland out of the European Union."
EU welcomes Conservative victory as clarity over Brexit
European leaders welcomed Boris Johnson's election victory that provided clarity on Britain's withdrawal from the EU but spoke of challenges that lie ahead particularly post-Brexit trade deal.
Britain and the EU have to negotiate a trade deal by the end of 2020. "We are ready to negotiate whatever is necessary, and it will be important tomorrow to get the mandate for the steps from the council (of EU leaders)," European Commission President Ursula von der Leyen said.
"The most important thing with Brexit is not the way we divorce, it's what we build afterwards," France's European affairs minister Amelie de Montchalin told reporters.
German conservative legislator Norbert Roettgen said the EU has to "accept their choice" as "the British people have decided and we have to accept their choice: With Johnson's victory, Brexit has become inevitable."
The way to Brexit
On Friday, the EU leaders will discuss a mandate for the European Commission to negotiate the future relationship with Britain after Brexit. They have a Brexit text ready to adopt on Friday.
The 27 other EU leaders will call for "as close as possible a future relationship with the UK" while warning that it "will have to be based on a balance of rights and obligations and ensure a level playing field".
Johnson has until July 1, 2020, to ask for a trade talk extension, after which Britain could face a sudden reduction in trade ties with Europe.
Source: News Agencies