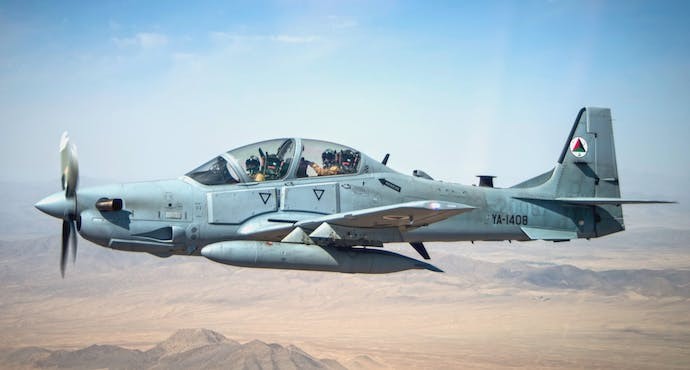 American pilot ejects safely from Afghan Air Force A-29 light attack plane before crash
A U.S. Air Force pilot flying an Afghan Air Force A-29 Super Tucano safety ejected before the light attack plane crashed in northern Afghanistan, U.S. and Afghan officials said.
The pilot, who has not been identified, was on a training flight when the crash occurred, a spokesman for U.S. Forces-Afghanistan confirmed.
The incident occurred in the Doshi district of Afghanistan's northeastern Baghlan Province around 11:30 AM local time on July 9. The crash was heard throughout Baghlan's mountainous Doshi district.
The turboprop A-29 is the Afghan Air Force's main light attack aircraft. A-29s have two seats, but can be flown by one pilot.
The Afghan Air Force's fleet includes nearly 30 A-29 aircraft, 10 of which are based at Moody Air Force Base, Georgia, for pilot training.
Afghan Air Force's fleet has around a total of 183 authorized aircraft including 30 MD-530 helicopters, 10 AC-208s with precision strike capability, four C-130s and 37 Mi-17 transport helicopters.