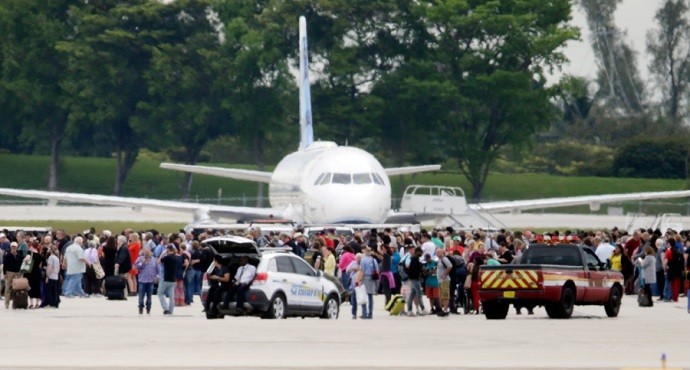 US veteran arrested in Florida airport shooting that killed 5 people
News, US
January 7, 2017
No Comments
Iraq war veteran accused of killing five at Ft. Lauderdale airport in Florida
At least five people were killed and eight wounded when a U.S. Army veteran drew a gun from his checked luggage and opened fire in the baggage claim area Friday at the Fort Lauderdale airport in Florida. The shooter complained that the government was controlling his mind.
Esteban Santiago, a 26-year-old – an Army National Guard veteran who served in Iraq but was discharged in 2016 for unsatisfactory performance – opened fire inside the baggage area of the busy airport and was taken into custody at the scene. He was carrying military ID and was wearing a Star Wars t-shirt.
Members of Esteban Santiago's family told media that he "lost his mind" after his tour of duty in Iraq. The man's brother, Bryan Santiago, said the suspect had been receiving psychological treatment while living in Alaska.
In addition to the five killed, eight others were wounded by gunfire and some three dozen were taken to local hospitals with bruises or broken bones suffered in the chaos surrounding the shooting massacre.
The airport remained tense in the hours after the shooting while hundreds of people were seen running for shelter in live television pictures.
The mayor earlier described the gunman as a "lone shooter" who is responsible for the attack.
Investigators said the gunman boarded a plane Thursday night in Anchorage, changed planes in Minneapolis and flew to Fort Lauderdale Friday. Once he got off the plane, officials said he claimed his checked baggage, went into a restroom — where he apparently loaded the gun — and came out shooting.
In United States, it is legal for airline passengers to travel with guns and ammunition as long as the firearms are put in a checked bag – not a carry-on – and are unloaded and locked in a hard-sided container. Guns must be declared to the airline at check-in.
Authorities said the motive for the attack was under investigation. Shortly after the shooting, and before details of Santiago's mental health became public, Sen. Bill Nelson of Florida said that it remained to be seen whether it was terrorism or the work of "someone who is mentally deranged".
FBI agent George Piro, who is in charge of the Miami field office, confirmed that Santiago had come into the Anchorage office and clearly indicated at the time that he was not intent on hurting anyone.
Santiago, who is in federal custody, will face federal charges and is expected to appear in court Monday, Piro said.
"This is a senseless act of evil," Florida Governor Rick Scott told reporters.
A White House spokesman said President Barack Obama had spoken to Scott and Broward County Mayor Barbara Sharief and had extended his condolences to the loved ones of the victims.