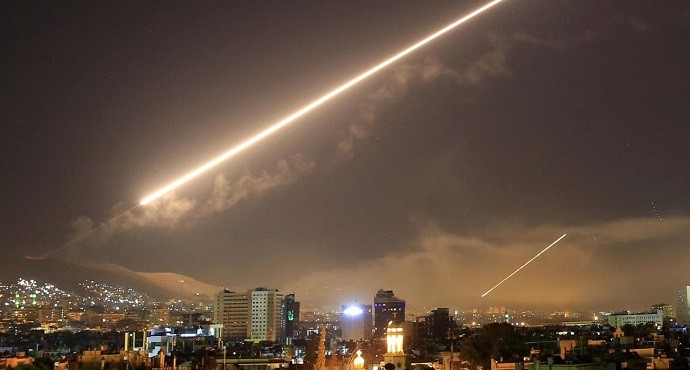 The US, UK and France have bombed three government sites in Syria targeting chemical weapons facilities
The US and allies Britain and France have launched more than 100 air attacks, including missiles, on Syria. The move is a response to a suspected chemical attack on the town of Douma last week which killed dozens.
"The nations of Britain, France, and the United States of America have marshalled their righteous power against barbarism and brutality," US President Donald Trump said in an address from the White House at about 21:00 local time (01:00 GMT).
Military bases near the capital Damascus and the city of Homs were targeted.
British Prime Minister Theresa May has defended "successful" British air strikes on Syria saying it was "right and legal" to launch military action over a suspected chemical attack in Douma.
According to the UK Ministry of Defence, strikes carried out by four RAF Tornado jets hit one of the targets mentioned by the Pentagon – a military site near the city of Homs which is believed to have housed precursor materials for chemical weapons.
The Pentagon has said US-led strikes on Syria successfully hit every target, dealing a "severe blow" to President Bashar al-Assad's alleged chemical weapons programme.
The raids, in which the US and its allies deployed a total of 105 missiles, were "precise, overwhelming and effective", and "successfully hit every target", Lieutenant-General Kenneth F McKenzie said.
The prime target of the operation was the Barza Research and Development Center in the greater Damascus area. A total of 76 missiles, including 57 Tomahawk missiles, were fired at the facility, McKenzie said.
However, a Russian military official has said that Syrian air defence had intercepted at least 71 cruise missiles fired by US, UK and French forces. The Russian defence ministry was quoted as saying that Syria deployed Russian-made surface-to-air missiles, including S-125, S-200, 2K12 Kub and Buk to repel the attacks.
"Russia convenes an emergency meeting of the UN Security Council to discuss aggressive actions of the US and its allies," President Vladimir Putin said in a statement on Saturday published on the Kremlin website.
"The current escalation of the situation around Syria has a devastating impact on the whole system of international relations," he added.