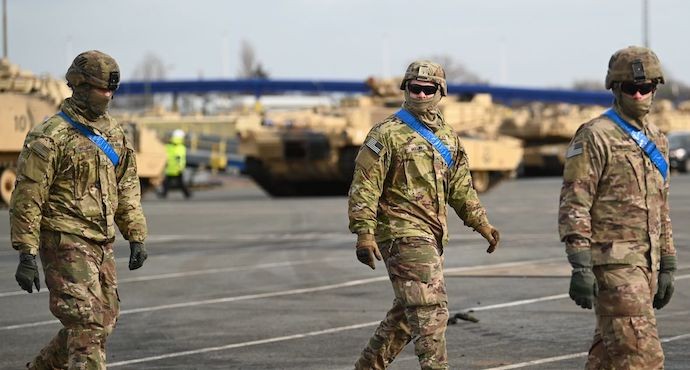 Pentagon to pull 12,000 US troops from Germany. The move slammed as 'gift to Russia'
The Pentagon will begin withdrawing nearly 12,000 troops from Germany and relocate its Air Force F-16s to Italy to wind down U.S. operations in Germany – a key strategic location for American military operations since the end of World War II.
Nearly 6,400 U.S. troops will return home while 5,400 will be relocated within Europe. The US European Command (EUCOM) and Special Operations Command Europe will also be relocated from Stuttgart in Germany to Belgium.
Defense Secretary Mark T. Esper made the announcement on July 29 in a joint briefing with Vice Chairman of the Joint Chiefs of Staff Gen. John E. Hyten and U.S. European Command boss Gen. Tod D. Wolters.
The U.S is slashing its military presence in Germany after U.S. President Donald Trump said last month that the move was intended to punish Berlin because it was not spending the NATO target of 2% of its GDP on defense and was taking "advantage" of the US. "We spend a lot of money on Germany, they take advantage of us on trade and they take advantage on the military, so we're reducing the force," he told reporters.
The Pentagon said the action was part of its plan to strategically "reposition" U.S. forces in Europe to better counter threats from Russia and China. Esper accepted the plan would cost billions and take years to relocate the troops.
Is the relocation a gift to Russia?
The plan to pull US troops from the long-time NATO ally has been met with opposition and concerns that it will weaken the US military's position against Russia. The plan, he said, "is a slap in the face at a friend and ally when we should instead be drawing closer in our mutual commitment to deter Russian and Chinese aggression," he tweeted.
"It is a gift to Russia coming at a time when we just have learned of its support for the Taliban and reports of bounties on killing American troops" Romney said, terming the move "harmful to American interests," Romney added.
Germany was not even consulted
The move came as a shock to German who were reportedly not even informed let alone consulted.
"This is completely unacceptable, especially since nobody in Washington thought about informing its NATO ally Germany in advance," Peter Beyer, a member of Chancellor Angela Merkel's conservatives, was quoted as saying.
German Foreign Minister Heiko Maas regretted the planned withdrawal of U.S. soldiers from Germany, describing Berlin's relationship with the United States as "complicated".