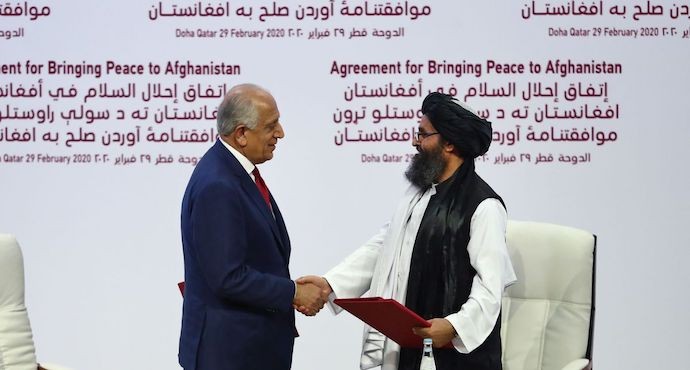 U.S. and Taliban sign deal to withdraw American troops from Afghanistan
The U.S. and the Taliban have signed a landmark peace agreement after nearly 2 decades of war to pave the way for the withdrawal of American troops from Afghanistan.
U.S. Special Representative Zalmay Khalilzad and the head of the militant Islamist group, Mullah Abdul Ghani Baradar, signed the agreement Saturday in Doha, Qatar.
Under the terms of the deal, the U.S. will gradually reduce its troop levels to 8,600 in the first 135 days and close five bases. In exchange, Taliban have committed to neither aid nor harbor terrorists and to enter into talks with the US-backed Afghan government.
"The coalition will complete the withdrawal of their remaining forces from Afghanistan within 14 months following the announcement of this joint declaration and the U.S.-Taliban agreement… subject to the Taliban's fulfillment of its commitments under the U.S.-Taliban agreement," the statement said.
"These commitments represent an important step to a lasting peace in a new Afghanistan, free from Al Qaeda, ISIS, and any other terrorist group that would seek to bring us harm," President Donald Trump said in a statement ahead of the signing ceremony. "Ultimately it will be up to the people of Afghanistan to work out their future."
What does the Taliban-US peace agreement say?
A comprehensive peace agreement is made of four parts:
1. Guarantees and enforcement mechanisms that will prevent the use of the soil of Afghanistan by any group or individual against the security of the United States and its allies.
2. Guarantees, enforcement mechanisms, and announcement of a timeline for the withdrawal of all foreign forces from Afghanistan.
3. After the announcement of guarantees for a complete withdrawal of foreign forces and timeline in the presence of international witnesses, and guarantees and the announcement in the presence of international witnesses that Afghan soil will not be used against the security of the United States and its allies, the Islamic Emirate of Afghanistan which is not recognized by the United States as a state and is known as the Taliban will start intra-Afghan negotiations with Afghan sides on March 10, 2020, which corresponds to Rajab 15, 1441 on the Hijri Lunar calendar and Hoot 20, 1398 on the Hijri Solar calendar.
4. A permanent and comprehensive ceasefire will be an item on the agenda of the intra-Afghan dialogue and negotiations. The participants of intra-Afghan negotiations will discuss the date and modalities of a permanent and comprehensive ceasefire, including joint implementation mechanisms, which will be announced along with the completion and agreement over the future political roadmap of Afghanistan.