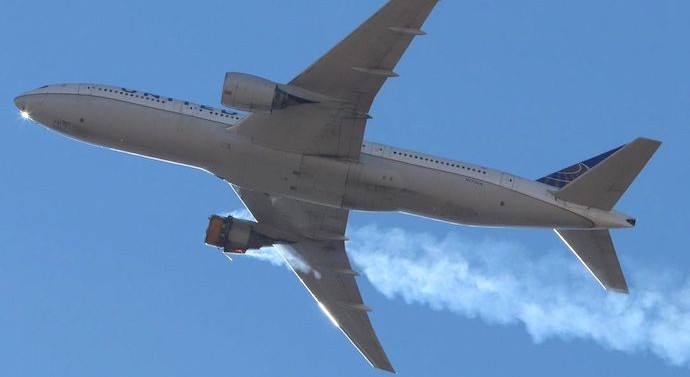 US plane suffers engine failure, scatters debris over Denver
News, US
February 21, 2021
No Comments
United Airlines flight landed safely after suffering engine failure
A United Airlines passenger plane landed safely at Denver International Airport after it suffered an engine failure just minutes after taking off, strewing debris across a Denver neighborhood.
There were no reports of injuries on the plane or the ground.
The Boeing 777-200 plane, with 231 passengers and 10 crew on board, was heading to Honolulu on Saturday when it suffered an engine failure soon after takeoff, the airline said.
A video shot from inside the aircraft showed the right engine ablaze and wobbling on the wing of the plane.
"I can honestly say I thought we were going to die at one point – because we started dropping altitude right after the explosion," passenger David Delucia told The Denver Post. "I grabbed my wife's hand and said, 'We're done.'"
Had a front row seat to the entire engine failure on United flight 328. Kinda traumatized to fly United more. #UnitedAirlines pic.twitter.com/5KdJn1BGfV

— Chad Schnell (@ChadSchnell) February 20, 2021
Images posted by police in Broomfield, Colorado showed significant plane debris on the ground, including an engine cowling scattered outside a home and what appeared to be other parts in a field.
Kirby Klements, a resident of Broomfield, was with his wife inside his home when he heard a loud bang. "There was a lot of debris raining from the sky," he said.
Police in the town of Broomfield posted pictures of what appears to be the front of an engine casing in the front garden of a home.
Another photo of debris from a home off Elmwood in @broomfield. pic.twitter.com/VXEHEMpeDD

— Broomfield Police (@BroomfieldPD) February 20, 2021