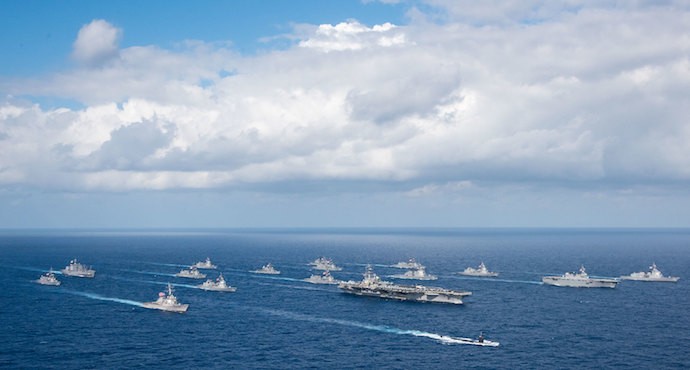 US, Japan, Australia, and South Korea join inaugural 'Pacific Vanguard' naval exercises
The United States, Japan, Australia and South Korea have kicked off "first-of-its-kind" combined naval exercise in the Western Pacific near Guam, the U.S. Navy said on May 23.
The "Pacific Vanguard" exercise brings together more than 3,000 sailors from the four countries to "sharpen skills and strengthen practical cooperation at sea," the U.S. Seventh Fleet said in a statement.
"Pacific Vanguard joins forces from four, like-minded maritime nations that provide security throughout the Indo-Pacific based on shared values and common interests," said Vice Adm. Phil Sawyer, commander of U.S. 7th Fleet. "This exercise advances the integration of our forces, and enables an effective collaborative response to a range of events that might occur in the region."
The drills focused on "live fire exercises, defensive counter-air operations, anti-submarine warfare, and replenishment at sea," added the statement.
The six-day exercise involves two Japanese destroyers, the JS Ariake and JS Asahi; two Royal Australian Navy frigates, the HMAS Melbourne and HMAS Parramatta; and a destroyer from South Korea, the ROKS Wang Geon.
The U.S. contingent of five participating ships includes the flagship of the Seventh Fleet, the USS Blue Ridge, along with the guided missile destroyers, USS Antietam and the USS Curtis Wilbur. Two support vessels have also joined the tanker ship, USNS Rappahannock, and the transport ship, the USNS Richard E. Byrd.
Pacific Vanguard is the latest show of combined naval force in the Asia Pacific region.
Guam, home to more than 160,000 people, was at the center of nuclear tensions between Washington and Pyongyang in 2017, with North Korea threatening to hit the U.S. territory with "enveloping fire."