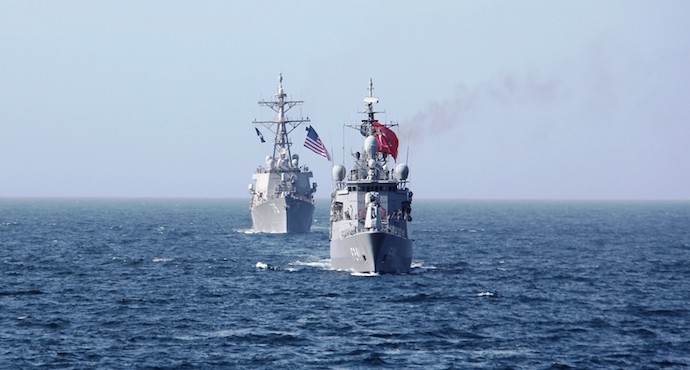 Turkish and US naval forces conducted a joint maritime exercise in the Black Sea
The United States and Turkish naval forces jointly participated in an integrated surface, air, subsurface warfare exercise.
The Arleigh Burke-class guided-missile destroyers USS Donald Cook (DDG 75), USS Porter (DDG 78), and a U.S. Navy P-8A from Patrol Squadron (VP) 46 participated in the exercise along with Turkish frigates TCG Turgutreis (F-241) and TCG Orucreis (F-245) in the Black Sea on February 9, 2021. Two Turkish Air Force F-16s and one US maritime patrol aircraft also participated in the exercise.
The U.S. ambassador to Turkey welcomed the "opportunity for American Navy ships USS Donald Cook and USS Porter to conduct exercises with the Turkish armed forces in the Black Sea."
"As NATO Allies, we share a commitment to peace and stability in Europe and the Middle East. Joint exercises build confidence, improve communications and reinforce our already strong security partnership in the Black Sea and the wider region" U.S. Ambassador to Turkey David Satterfield said.
Turkey's Defense Ministry said "The training conducted for the fundamental types of naval warfare has further strengthened cooperation between the Naval Forces of the two countries and has contributed to their interoperability."
Vice Adm. Gene Black, commander, U.S. Sixth Fleet and commander, Naval Striking and Support Forces NATO, said that "Turkey is a highly valued Ally and NATO maritime partner, whose joint operations with the U.S. Navy in the Black Sea reinforce the asymmetric advantage of the NATO Alliance." The ability to collaborate and operate together is based on the solidarity and strength of NATO, which enables stability in the maritime domain, he added.
Cmdr. Matthew Curnen, commanding officer of Donald Cook said "It was an honor and a pleasure to work with the Turkish Navy during today's exercises," and that their "Turkish counterparts are clearly well-trained professional mariners, and both sides gained valuable tactical experience in just a short time."
The exercise provided operational proficiency in anti-submarine warfare and anti-surface warfare in order to enhance overall multi-lateral operations among NATO Allies.
This week, @USNavyEurope & our Turkish @NATO Allies carried out exercises in the #BlackSea in support of our regional Allies & partners. #NATO Allies stand united in our resolve to ensure security & stability in the region. #WeAreNATO pic.twitter.com/VkifrlyktM

— US Mission to NATO (@USNATO) February 11, 2021