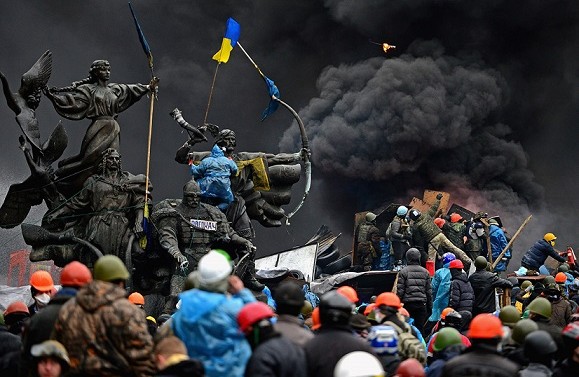 US administration main source of Ukrainian crisis: Russian Communist MP
Europe, News
December 22, 2014
No Comments
A senior Russian Communist Party lawmaker has stated that by signing the 'Ukrainian Freedom Support Act' US President Barack Obama has further aggravated the tensions in that country.
"The US administration is currently the main source and the main escalation factor in the Ukrainian crisis and the anti-Russian hysteria. As soon as our diplomats carefully put some sutures on the conflict situations and smear them with a healing medicine, the Americans immediately rip off the bandages and rub salt into the wound," said Ivan Melnikov, who is also first deputy speaker of the State Duma.
"This is a pre-planned strategy, shooting to kill," Melnikov said. "We should not expect anything different from them – force is the only thing they would understand."
Melnikov's comments came after Obama signed the Ukraine Freedom Support Act, providing lethal and non-lethal aid to the Kiev regime and giving the US president powers to impose more economic sanctions against Russian companies. The signing came despite Obama's opposition to the motion – the US president previously called it counterproductive and causing divisions with Washington's European allies.
Russian Foreign Minister Sergey Lavrov has discussed the law with US State Secretary John Kerry and said it could "undermine normal cooperation between Russia and the US for a long time," the Russian Foreign Ministry said on its website Friday.
Last week, Russian MP Mikhail Yemelyanov, of the Fair Russia party, called the Ukraine Freedom Support Act "extremely dangerous" and urged an "adequate response" to it.
"It is quite possible that we should return to the decision by our Upper House and give the Russian president an opportunity to use military force on Ukrainian territory preemptively. We should not wait until Ukraine is armed and becomes really dangerous," Yemelyanov said.
He was referring to a March 1 resolution by the Federation Council, Russia's upper house of parliament, that authorizes allowed the president to use military force on the territory of Ukraine "until the normalization of the social and political situation in that country." In late June it was repealed, following a request from Vladimir Putin who wanted to reduce tensions in view of the three-party talks on a peaceful settlement in eastern and southeast Ukraine
"This article was originally published in RT News website: http://rt.com/politics/215883-america-ukrainian-crisis-communist/″