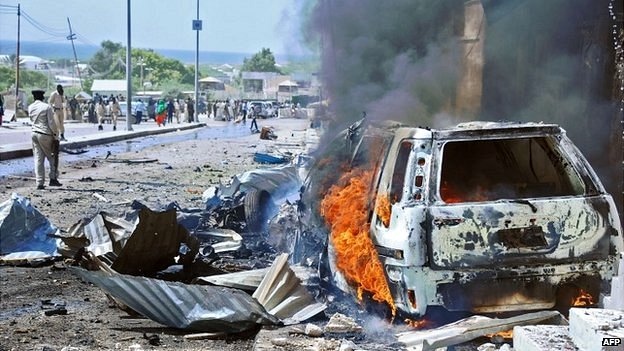 The United Nations has denounced the recent attack by al-Qaeda-affiliated al-Shabab militants on the headquarters of African Union Mission to Somalia (AMISOM) in the Somali capital, Mogadishu.
In a statement released by UN, Secretary-General Ban Ki-moon strongly condemned the attack, and conveyed his "sincere condolences to the families and friends of those who have lost their lives, and wishes a swift recovery for the injured."
Colonel Ali Aden Houmed, spokesman for the AMISOM, said on Thursday that the militants launched an attack on the Halane military base, Somalia's largest base for AU troops, in Mogadishu.
The AU official said at least eight militants stormed the base, adding that three of them were shot dead, while two others detonated their explosives and died near a fuel depot. Three others were also believed to have fled the scene of the attack.
Three AMISOM peacekeepers and a civilian contractor were killed in the attack.
The al-Shabab militant group claimed responsibility for the assault, saying it was targeting a Christmas party at the base near the capital's airport, which also houses UN offices.
Witnesses said the attack prompted a heavy exchange of fire between the AU forces and the militants.
AMISOM later said its troops had regained control of the base in Mogadishu after a gunfight that lasted several hours.
The Somali government and the African Union forces have stepped up safety measures in an effort to prevent assaults by al-Shabab, which was pushed out of Mogadishu by the African Union troops in 2011.
The African Union has over 20,000 troops in Somalia to help the weak government battle al-Shabab.
The militant group still holds several smaller towns and areas in the center and south of the country.