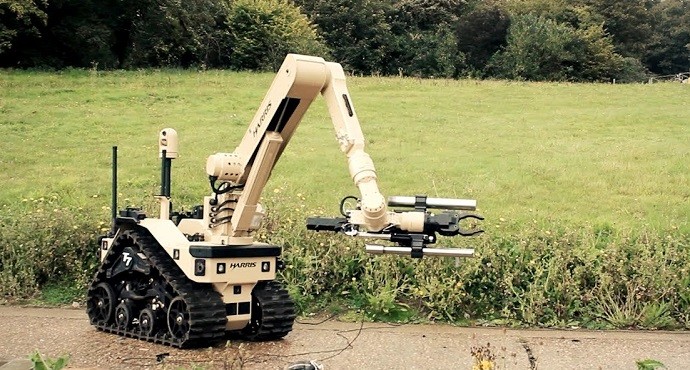 UK signs $70 million contract with Harris for bomb-disposal robots
Europe, News
September 17, 2017
No Comments
British Army orders Bomb-neutralizing robot Harris T7
The United Kingdom has announced a 73 million U.S. dollar-contract for an army of bomb disposal robots.
The United Kingdom's Ministry of Defence (MoD) has awarded Harris Corporation a contract worth up to £55 million ($70 million) to provide T7™ robotic systems to support U.K. explosive ordnance disposal (EOD) missions around the world.
Bitain's Defense Secretary Michael Fallon told the Defense and Security Equipment International (DSEI) Exhibition in London that the deal had been inked for 56 robots.
In his speech, Fallon outlined how the Harris T7 robots use 'advanced haptic feedback' to allow operators to 'feel' their way through the intricate process of disarming from a safe distance, protecting UK personnel from threats such as roadside bombs.
"With our rising defence budget, we are investing in the latest equipment for our Armed Forces to tackle the growing threats we face. These bomb disposal robots will be companions to our troops on the battlefield," said Defence Secretary Sir Michael Fallon.
The British Army is the first customer for Harris Corporation's T7 robot, according to the British Ministry of Defence.
Ed Zoiss, president of Harris' Electronic Systems division, said the sale represents the "first of several more international contract awards we're anticipating for the T7."
All 56 robots are due to be delivered and in service by December 2020, replacing the current Northrop Grumman Wheelbarrow Mk8B device as part of the MoD's Project Starter.
Features of T7 Robot:
One of the key attributes of the T7 is the use of advanced haptic feedback from the robot arm to the remote control handgrip, giving operators the ability to feel their way through the sensitive process of neutralizing threats such as roadside bombs.
Harris T7TM robotic system to provide U.K. forces with advanced EOD capabilities
Features unique, highly intuitive control interface, haptic feedback and human-like dexterity
Represents first of several potential international opportunities for the T7 robot