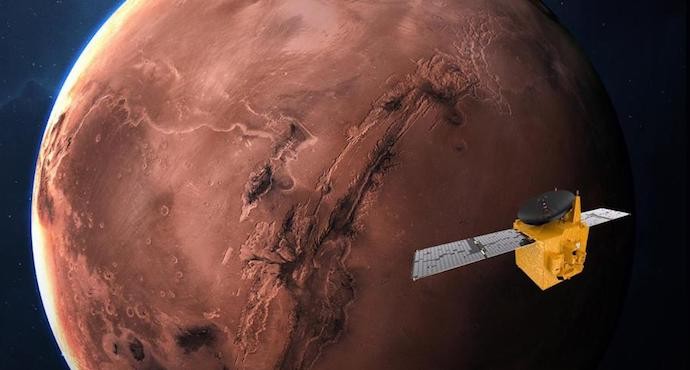 UAE joins the elite group of nations that have successfully reached Mars
The United Arab Emirates' first-ever interplanetary mission has successfully entered orbit around Mars after a seven-month journey.
With the successful Emirates Mars Mission (EMM), the Gulf state became the first Arab country and the fifth nation to reach the red planet.
Landmarks across the UAE have been lit up in red at night, illuminated with the #ArabstoMars hashtag, to celebrate the interplanetary success.
"This has been a remarkable journey of humanity," UAE Space Agency chairperson Sarah Al Amiri said. "It's an endeavor in developing capabilities and talent in the country, it is something that has never been done before in terms of utilizing a planetary exploration mission to do this," she said.
The Emirates Mars Mission, which has cost around $200 million, launched the Hope Probe from a Japanese space center in July last year.
The United States, China and the UAE all launched their Mars mission in July 2020, taking advantage of a period when the Earth and Mars are nearest. The UAE's Hope probe is the first to reach Mars' orbit on February 10. Only the US, India, the former Soviet Union and the European Space Agency have successfully reached Mars orbit.
Emirates Mars Mission
Hope is an orbiter designed to spend one Martian year (two Earth years) looking at the red planet's atmosphere, studying the loss of hydrogen and oxygen gases into space, to provide a complete picture of the Martian atmosphere for the first time.
Launched on: July 20, 2020
Launch location: Tanegashima​ Space Centre​, Japan
Cruising distance: 493.5 million km
Mission duration: One Martian Year (or 2 Earth years)