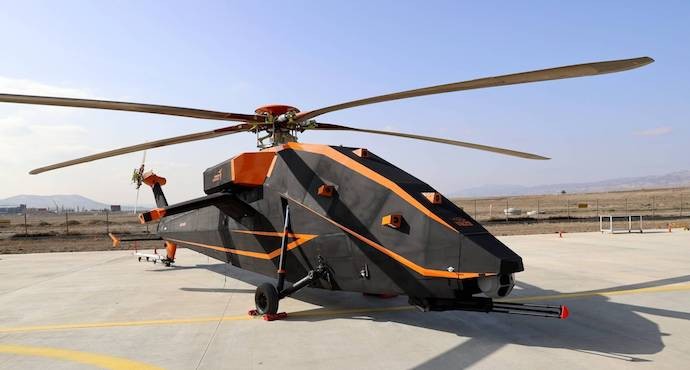 T629 attack helicopter is currently under development by Turkish Aviation and Space Industry
Turkey has unveiled the preliminary prototype of its unmanned and electric version of the T629 helicopter, which is under development.
Turkish Aerospace Industries (TAI) exhibited the prototype of its all-electric, unmanned, six-ton T629 attack helicopter at TAI facility on February 25. The aircraft is expected to make its first flight later this year.
The T629 helicopter project has been underway since 2017. "It will bring new technologies to the Turkish aerospace sector" Turkish media reported.
The T629 could be potentially used for anti-ship and anti-submarine warfare (ASW), search-and-rescue, and to support Turkey's existing manned T129 ATAK helicopters by flying reconnaissance/scouting, light transport and reconnaissance missions
TAI has not disclosed any details about the new aircraft's electric propulsion system or other technology used for the prototype.
TAI is currently working on four helicopter programs, and two of them are the five-ton T129 Tactical Reconnaissance and Attack Helicopter (ATAK) and the T70 General Purpose Helicopter.
Turkey's T129 multirole attack helicopter, based on the Leonardo A129 Mangusta helicopter, has been developed jointly by Turkish Aerospace Industries (TAI). T129 is powered by two LHTEC T800-4A turboshaft engines, the export version of the CTS800 engine, developed by the American firm Honeywell and the British company Rolls-Royce.
However, the country has also focused efforts on developing domestic engines and Turkey's first indigenous helicopter engine will power the T-625 Gökbey multirole helicopter.