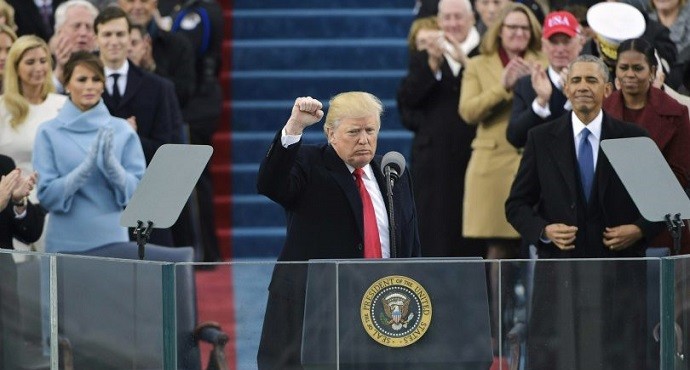 Trump vows to put 'America first' as he becomes 45th President of the United States
News, US
January 21, 2017
No Comments
US President Donald Trump signed his first bill into law, moments after being sworn in
Donald J. Trump became the 45th President of the United States on Friday, vowing to take power away from Washington elites and always put "America first".
In his first words to the nation and the world after being sworn in, President Trump depicted the United States as a land of overrun by poverty, gangs, abandoned factories, economic angst, rising crime and dystopian "carnage." He promised a new era in American politics. "January 20th, 2017, will be remembered as the day the people became the rulers of this nation again," the 45th president declared.
"We have defended other nations' borders while refusing to defend our own, and spent trillions and trillions of dollars overseas while America's infrastructure has fallen into disrepair and decay," he said. "We have made other countries rich while the wealth, strength and confidence of our country has dissipated… [T]he wealth of our middle class has been ripped from their arms and redistributed all across the world."
At the center of his foreign policy vision, Donald Trump has put the phrase "America First". "We assembled here today are issuing a new decree to be heard in every city, and in every foreign capital and in every hall of power," Trump said. "From this day forward, a new vision will govern our land, from this day forward, it's going to be only 'America first! America first!'"
Toward the end of his remarks, Trump appealed for unity and solidarity.
The Senate confirmed two retired generals to Trump's cabinet, James Mattis and John Kelly, to head the Pentagon and Department of Homeland Security, respectively.
More than 200 arrested, charged with rioting in DC
Thousands of protesters filled the streets of Washington DC, in mostly peaceful demonstrations that contrasted sharply with the thin crowds watching the inaugural parade.
More than 200 people were arrested after violence broke out in Washington, D.C., police said, when some protesters threw bricks and bottles at police and officers fired pepper spray and stinging projectiles in return. At least six police officers were also injured.
Washington braced for far larger protests planned for Saturday, including a Women's March that expects more than 200,000 people.
President Trump signs first bill into law
President Donald Trump signed his first bill into law Friday, moments after being sworn in, clearing the way for his defense secretary to be confirmed.
The bill passed by Congress earlier this month would allow retired Gen. James Mattis to serve as defense secretary by waiving the legal requirement that he be out of the military for seven years before doing so, according to White House press secretary Sean Spicer.