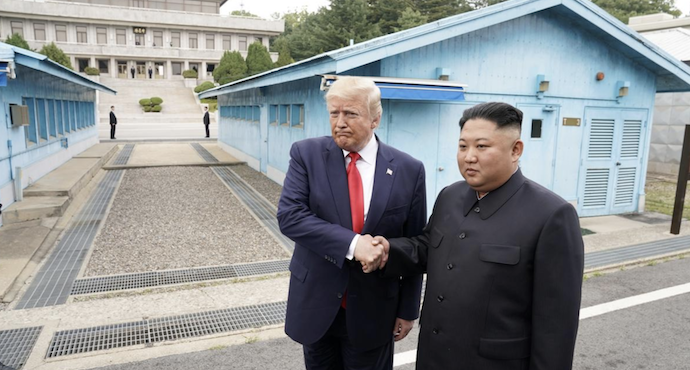 Trump becomes first sitting U.S. President to enter North Korea
President Trump became the first U.S. president to step onto North Korean soil on Sunday when he crossed over the Demilitarized Zone between North and South Korea on Sunday while meeting with Kim Jong Un and agreed to resume stalled nuclear talks.
After the roughly 45-minute long meeting, Mr. Trump told reporters he and Kim had agreed to restart nuclear talks.
Mr. Trump and Kim shook hands at the border and Mr. Trump hailed his "great relationship" with Kim.
"Stepping across that line was a great honour," Trump said at a joint news conference with Kim. "It's a great day for the world," he added.
"I want to thank Chairman Kim for something else; when I put out the social media notification, if he didn't show up the press was going to make me look very bad so you made us both look good and I appreciate it," Trump added.
"We've developed a great relationship, I think if you go back two and a half years and you look at what was going on prior to me becoming president, it was a very, very bad situation a very dangerous situation for South Korea, North Korea, for the world," the US president said.
Trump responded to reporters by saying "I'll invite him to the White House right now." No North Korean leader has ever traveled to the United States.
North Korea's Kim Jong Un says President Donald Trump's brief visit to North Korean territory improves ties.
This was the third in-person encounter between Trump and Kim following two summits in Singapore in 2018 and Vietnam in February this year. But there has been little progress since then.