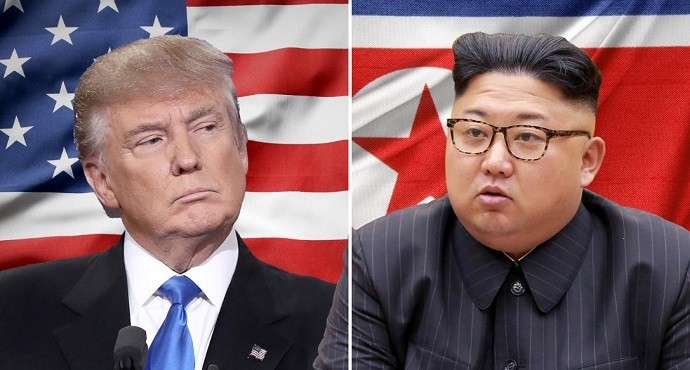 Trump says US military 'is ready if necessary' after he cancels the summit with North Korea's Kim Jong Un
U.S. President Donald Trump on Thursday called off the celebrated summit with North Korean leader Kim Jong Un scheduled for next month in Singapore, citing Pyongyang's "open hostility," and warned that the U.S. military was ready in the event of any reckless acts by North Korea.
Trump wrote a letter to Kim to announce his sudden withdrawal from what would have been a historic meeting between a serving U.S. president and a North Korean leader on June 12.
"Sadly, based on the tremendous anger and open hostility displayed in your most recent statement, I feel it would be inappropriate, at this time, to have this long-planned meeting," Trump wrote. "Please let this letter serve to represent that the Singapore summit, for the good of both parties, but to the detriment of the world, will not take place."
Earlier on Thursday, North Korea had repeated its threat to pull out of the summit, which was intended to address concerns about its nuclear weapons program, and warned it was prepared for a nuclear showdown with Washington if necessary.
In a statement at the White House on Thursday, Trump said he was still open to dialogue but had spoken to Defense Secretary Jim Mattis and warned North Korea against any "reckless act."
"Our military is ready if necessary," that is if North Korea takes any "foolish action" following his decision to pull out of planned talks next month. He said the U.S. military was the most powerful in the word and was ready if necessary.
Mr Trump added that the summit cancellation is a "great setback for the world" and bragging about "greatly enhanced" military power the US and its allies have.
"Likewise, I have spoken to South Korea and Japan and they are not only ready should foolish or reckless acts be taken by North Korea, but they are willing to shoulder much of the cost of any financial burden — any of the costs associated by the United States in operations, if such an unfortunate situation is forced upon us," he continued.
South Korea presidential spokesperson Kim Eui-kyeom said in a statement that the country's officials are actively seeking to determine what the announcement means.
"We are attempting to make sense of what, precisely, President Trump means," he said.
Speaking in Geneva, the UN secretary general, António Guterres, said he was "deeply concerned" about the cancellation of the summit, and appealed for a continued dialogue to "find a path to the peaceful and verifiable denuclearization of the Korean peninsula"
Trump's letter to Kim
In the formal letter to Kim released by the White House, Trump said he had been "very much looking forward" to meeting the North Korean leader.
In his letter, Trump thanked Kim for releasing three US citizens last month. He said: "That was a beautiful gesture and was very much appreciated."
Sadly, I was forced to cancel the Summit Meeting in Singapore with Kim Jong Un. pic.twitter.com/rLwXxBxFKx

— Donald J. Trump (@realDonaldTrump) May 24, 2018
"I felt a wonderful dialogue was building up between you and me, and ultimately, it is only that dialogue that matters" he wrote in a letter that appeared to have been directly dictated by Trump, reflecting his speaking style.
Trump left the door open to a future meeting if and when the war of words calmed down.
"If you change your mind having to do with this important summit, please do not hesitate to call me or write. The world, and North Korea in particular, has lost a great opportunity for lasting peace and great prosperity and wealth. This missed opportunity is a truly sad moment in history."