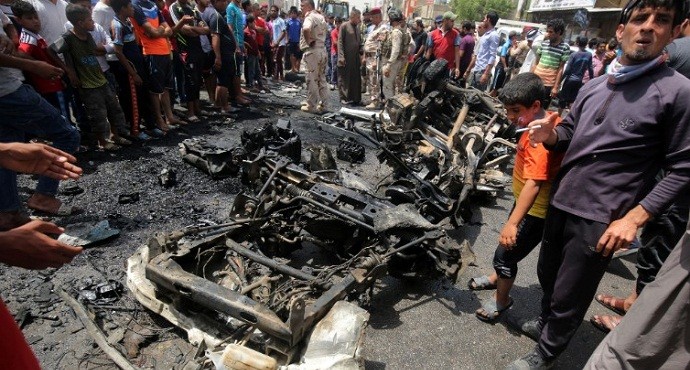 At least 90 killed in the deadliest wave of suicide bombings across Baghdad on Wednesday. ISIS claims responsibility for the largest car bombing in Baghdad's Sadr City
BAGHDAD (Iraq) – Three car bombings hit Baghdad on Wednesday, killing more than 90 people and injuring hundreds – making it the bloodiest day in Iraq.
The first targeted a crowded market during rush hour in a predominately Shi'ite Muslim area of eastern Baghdad, killing more than 60. The so-called Islamic State has claimed responsibility for the attack.
The second exploded at the entrance to Baghdad's Kadhimiya district, killing at least 15.
A third in western Baghdad has killed at least seven.
In the deadliest attack of the day, a car bomb ripped through a commercial area in the mainly Shia Muslim area of Sadr City during the morning rush hour, killing 64 people and wounding 87 others.
Shortly after the explosion, the Islamic State of Iraq and Syria (ISIS) claimed responsibility for the Sadr City attack in a statement on social media.
The Sadr City bombing was followed by a suicide blast targeting a police station in Kadhimiyah, another mostly Shiite Muslim district in the northwest of the Iraqi capital. 18 people were killed, including five policemen. Another 34 people were wounded. Kadhimiya is home to an important Shiite Muslim shrine and access to the frequently targeted neighbourhood is tightly controlled.
In the Jamiya neighbourhood in western Baghdad, a suicide car bombing killed seven and wounded 22 .
There was no immediate claim of responsibility for the later bombs, but all such attacks recently have been carried out by IS.
"Iraq's Interior Ministry says more than a third of the victims were women and children," she reports. "The attack comes as Iraqi forces press offensives against ISIS. According to U.S. estimates, ISIS lost 40 percent of its territory in Iraq over the past year. But it is still capable of carrying out attacks in the capital."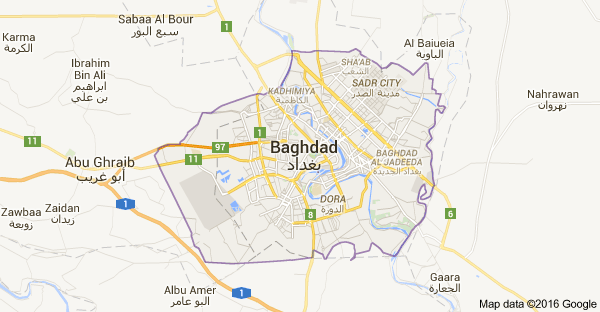 At least 50 people killed in market bombing in Baghdad's Sadr City
At least 50 people were killed and around 100 more injured as a massive car bomb tore through a commercial area of the Iraqi capital on Wednesday. There are fears the death toll could still rise.
Two police officers said the explosives-laden car went off Wednesday morning at a crowded outdoor market in Baghdad's eastern district of Sadr City.
Ambulances rushed to the scene where dozens of residents walked through the twisted and mangled wreckage of cars and other debris that littered the pavement, trying to help the victims. The street was stained red with blood in many places and front-side facades of several buildings were heavily damaged. Smoke billowed from ground-level stores gutted out by the explosion.
Karim Salih, a 45-year old grocer, said the bomb was a pickup truck loaded with fruits and vegetables that was parked by a man who quickly disappeared among the crowds of people.
"The force of the explosion threw me for meters (yards) away and I lost conscious for a few minutes," the merchant said. He suffered no injuries, but two of his workers were wounded.
The massive blast occurred in the morning when a booby-trapped car went off at a popular outdoor market in the Shiite bastion of Sadr City district, the source said.
In recent years, Sadr City has been targeted at least 110 times, according to Iraqi officials. In almost all cases the bombs were driven into the neighbourhood past an extensive system of checkpoints.
Sadr City is the stronghold of radical Shiite cleric Muqtada al-Sadr, who has been the driving force behind massive anti-government protests in Baghdad in recent weeks.
Shiite Iraqis angry over corruption and a government they feel fails to protect or represent them stormed the capital's heavily guarded "Green Zone," which houses both Iraq's national government and the U.S. Embassy.
At least 741 Iraqis killed in April 2016
According to the UN, the ongoing violence has killed at least 741 Iraqis in the month of April, of which 410 were civilians while the rest were members of the security forces.  Around 1,374 were injured in acts of terrorism, violence and armed conflict in Iraq in April 2016.
In March, at least 1,119 people were killed and 1,561 wounded.
Baghdad remains the worst-hit area in terms of documented deaths, with 232 civilians killed and 642 wounded in April.