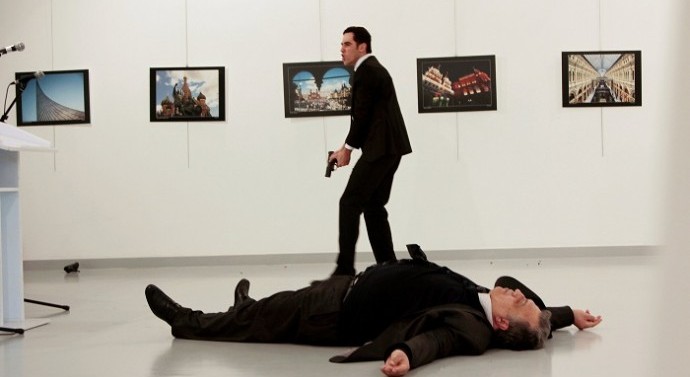 Europe and Middle East have been left reeling after a night of terror that has left several people dead and many severely wounded. Fatal attacks by apparent terrorists occurred Sunday and Monday in the cities of Berlin, Ankara, Karak and Zurich.
12 killed as truck ploughs through crowd at Berlin Christmas market
A truck slammed into a crowded Christmas market in central Berlin on Monday night, killing at least 12 people and wounding 48.
The incident took place at the Christmas market at the Kaiser Wilhelm Memorial Church near the Zoologische Garten train station in the western part of the city. The popular Christmas market was filled with a mix of tourists and locals when the large Scania truck hurtled into it.
The Berlin truck attack evoked scenes of Nice, France, where a truck drove into a crowd in July, killing over 80 people.
Russian Ambassador to Turkey assassinated in Ankara
In the Turkish capital of Ankara, a man assassinated the Russian ambassador to Turkey while visiting an art exhibition opening.
The gunman, described by Turkish officials as a 22-year-old off-duty police officer, also wounded at least three others in the assault on the envoy, Andrey G. Karlov, which was captured on video. Turkish officials said the assailant was killed by other officers in a shootout.
President Vladimir V. Putin of Russia said on Russian television that Mr. Karlov had been "despicably killed" to sabotage ties with Turkey. Mr. Putin spoke with the Turkish president, Recep Tayyip Erdogan, by phone, and the two leaders agreed to cooperate in investigating the killing, and in combating terrorism broadly.
Gunman wounds three in Zurich mosque rampage
A man stormed into a Zurich mosque on Monday evening and opened fire on people praying, injuring three, Swiss police said.
Two of the three men — aged 30, 35 and 56 — were seriously injured in the attack shortly after 5:30 p.m. local time (1630 GMT) near the main train station in Switzerland's financial capital.
The unidentified suspect, a man around 30 years old who according to witnesses was wearing dark clothing and a dark wool cap, fled the mosque, police said.
Two thirds of Switzerland's 8.3 million residents identify as Christian but the nation has been wrestling with the role of Islam as its Muslim population has risen to 5 percent, swelled by the arrival of immigrants from the former Yugoslavia.
At least 10 die in Shootout at Crusader Castle in Jordan
On Sunday, Jordanian security forces freed foreign tourists trapped inside a medieval castle in the central city of Karak, following attacks by gunmen that left at least 10 people dead.
The attack took place at a Crusader castle popular with tourists, killing seven officers, two local civilians and a tourist from Canada, officials said.
Four gunmen were killed by security forces, reports the Jordan Times, after an hours-long operation to free people trapped in the castle.
At least 34 people, including two foreign nationals, were wounded in the day's violence, which was one of the bloodiest attacks in Jordan in recent memory.