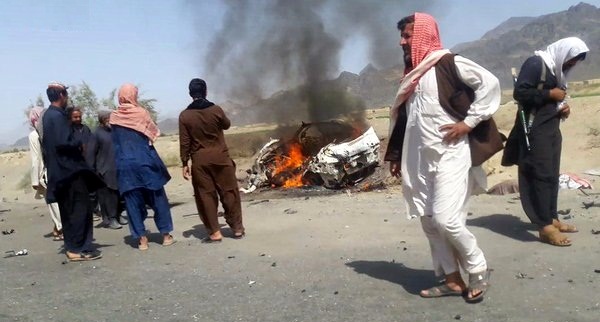 Taliban leader Mullah Akhtar Mansour has been killed in a US drone strike. This claim by US officials has now been confirmed by Afghan government and intelligence agency.
Taliban chief Mullah Akhtar Mansour was targeted and "likely killed," by U.S. airstrike on Saturday along the Afghanistan-Pakistan border, senior defense officials said.
Mansour and another Taliban combatant were reportedly killed by the airstrikes from multiple U.S. drones that struck a vehicle in which they were riding in a remote area of Pakistan, southwest of the town of Ahmad Wal, Reuters.
"The Department of Defense conducted an airstrike that targeted Taliban leader Mullah Mansur in a remote area of the Afghanistan-Pakistan border region" Pentagon Press Secretary Peter Cook said in a statement.
Today DoD carried out a precision airstrike targeting Taliban leader Mullah Mansur. Another step to make our troops safer in Afghanistan

— Peter Cook (@PentagonPresSec) May 21, 2016
"We are still assessing the results of the strike and will provide more information as it becomes available," Peter Cook added.
Mansour "has been an obstacle to peace and reconciliation between the Government of Afghanistan and the Taliban, prohibiting Taliban leaders from participating in peace talks with the Afghan government that could lead to an end to the conflict," a Pentagon statement earlier Saturday said.
Earlier, one of the Taliban commanders, Mullah Abdul Rauf has confirmed that Mansour died in the strike late Friday night, AP reported.
Afghan government and intelligence agency confirm the killing of Mullah Mansour
Afghanistan government and spy agency, Afghan National Security Directorate (NDS), has confirmed that Taliban leader Mansour has been killed in the Dalbandi area of Balochistan province. This is the first official confirmation of the killing of the Taliban leader.
However, there is confusion about the place of drone target. Afghanistan agency claims the drone targeted Mansour's his vehicle in Dalbandin area of Pakistan's Balochistan province, which is 2-hours drive away from Ahmad Wal – the place of target reported by Reuters.
President of Afghanistan, Ashraf Ghani, while confirming the death of Mullah Mansour in his tweet, also urged other Taliban members to end bloodshed and join the peace talks.
In the event of Mullah Mansour's killing, a new opportunity presents itself to those Taliban who are willing to end war & bloodshed. (7/n)

— ارگ (@ARG_AFG) May 22, 2016
Significance of Mulla Mansour's death
The death of Mullah Akhtar Mansour may open up a battle for succession and deepen fractures that developed in the insurgent movement after the death of Mullah Mohammad Omar, point out Reuters.
Mansour officially replaced Mullah Omar, the founder of the Taliban, as the group's emir in August 2015 when Omar's death was disclosed.
Sen. John McCain, chairman of the Senate Armed Services Committee, welcomed news of Mansour's possible death Saturday and said, "I hope this strike against the Taliban's top leader will lead the administration to reconsider its policy of prohibiting U.S. forces from targeting the Taliban."
The timing of the strike was significant as the Afghan government warned it would take action against the group for not participating in the peace talks. "If it is proved that Mullah Mansour has died in the strike, it would be a major blow to the Taliban" Al Jazeera noted.
Who is Mullah Akhtar Mansour?
Mansour was appointed Taliban leader last year after the death of Mullah Omar. He joined the Taliban in 1995, a year after it was founded and held some important positions in the group.

Mullah Mansour, hailing from Afghanistan's Ishaqzai tribe, was born in around 1965 in a small village called Kariz in the Maiwand district of Kandahar.
He fought against Soviet forces in Afghanistan for a brief period and was a member of Harakat-i-Inqilab-i-Islami – a former paramilitary group.
One of his first jobs for the group was overseeing the security of Kandahar airport.
In 1996-2001, when the Taliban was in power, he oversaw ministry of civil aviation.
He rose to upper echelons after Mullah Akhtar Osmani, a superior Taliban military leader and a close associate of Mullah Omar, was killed by US-led coalition forces in 2006 and Mullah Dadullah Akhund, the group's top military commander, was killed in 2007 by British special forces.
Between 2007 and 2010 he was able to stake a claim for higher office when Mullah Abdul Ghani Baradar, the deputy of Mullah Omar, and Mullah Obaidullah Akhund, the Taliban government defence minister, were captured by the Pakistan Intelligence agency ISI.
In July 2015, Afghan intelligence said that Mullah Omar had been dead for two years. But Taliban elected Mullah Mansour as leader within hours of that announcement.
Taliban fighters seized the capital of Kunduz province only a few months after his appointment. The attack was the biggest blow to Afghan President Ashraf Ghani.
In December 2015,  Afghan officials said Mansour had died after a gunfight. The Taliban later released an audio message from him denying the claim.
Mansour refused to join any of the Quadrilateral Coordination Group (QCG) meetings, made up of representatives from Afghanistan, Pakistan, China and the United States to revive the process in Afghanistan.
After his staunch refusal to join talks, Afghan officials told that action against the Taliban would be on the agenda for the fifth round of peace talks in early May.