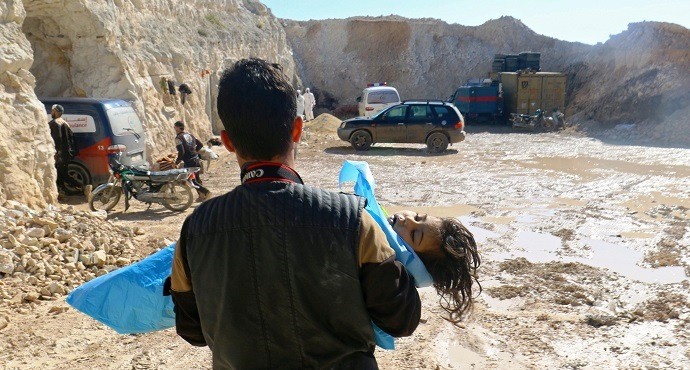 Chemical attack kills dozens in Syria, US blames Assad
A chemical weapons attack in northern Syria killed dozens of people on Tuesday, leaving residents gasping for breath and convulsing in the streets and overcrowded hospitals in one of the deadliest assault in Syria's civil war.
Syrian Observatory for Human Rights says the death toll of 58 has risen to 72, and that all the victims were civilians. Syrian doctors said a combination of toxic gases is suspected to have been released during the airstrikes, causing the high death toll and severe symptoms.
The attack was reportedly carried out in Khan Shaykhun, a town in between Homs and Aleppo.
At least another 100 people were being treated in hospitals in Idlib province where the fresh airstrike took place after the attack.
Activists said the Syrian regime was responsible for the killings. However, Syrian President Bashar al-Assad's military and Syria's strong ally, Russia, denied they were behind the attack. Russia said it had no warplanes in the vicinity.
The Syrian anti-government activist group Idlib Media Center published photos of young children receiving medical treatment, and a video showed what appeared to be bodies of children lined up on a blanket.
Video footage surfaced on social media of small, frantic children being hosed off by rescuers in the hopes of washing away whatever lethal chemical agent had hit them. Other gruesome reports showed corpses hastily wrapped in blankets, victims with foam coming out of their mouths and a chilling scene of lifeless bodies.
Reaction of world leaders on chemical attack
World leaders from Washington to London to Istanbul expressed shock and outrage Tuesday at reports of a suspected chemical attack in northwestern Syria.
"Today's chemical attack in Syria against innocent people, including women and children, is reprehensible and cannot be ignored by the civilized world," said White House press secretary Sean Spicer. "These heinous actions by the Bashar al-Assad regime are a consequence of the past administration's weakness and irresolution."
"Once again the Syrian regime will deny the evidence of its responsibility for this massacre," French President François Hollande said in a statement.
"Bombing your own civilians with chemical weapons is unquestionably a war crime, and they must be held to account," declared British Foreign Minister Boris Johnson.
The Turkish foreign minister, Mevlut Cavusoglu, said the attack was a crime against humanity that could derail the fragile Syrian peace process.
Turkey said it dispatched 30 ambulances to Idlib following chlorine gas attacks in the northwestern province, the Turkish Anadolu news agency reported.
Pope Francis said he was horrified by the suspected chemical weapons attack and called on countries supporting atrocities in Syria to examine their consciences
Syrian military denies responsibility
The Syrian army "categorically denies the use of chemical and poisonous material in Khan Sheikhoun," the General Command said in a statement. "The Syrian army holds the terrorist groups and those supporting them responsible for the use of chemical and poisonous material and for the careless wasting of innocent civilians' lives to achieve their despicable goals and agendas," the statement said.