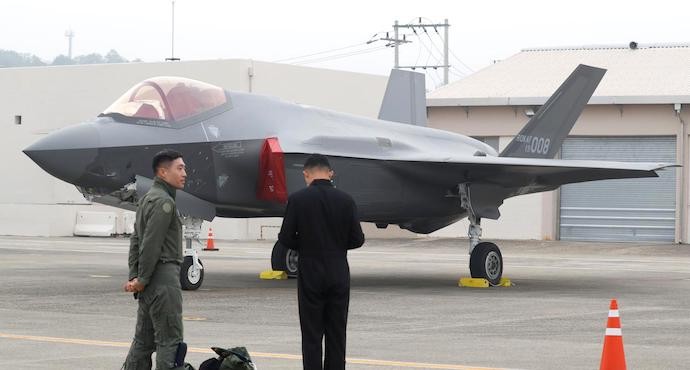 South Korea showed off its F-35 fighter jets seen by North Korea as a threat
South Korea displayed some of its recently purchased US-made F-35 stealth fighter jets for the first time during its Armed Forces Day ceremony on Tuesday.
President Moon Jae-in reviewed military planes including an F-35, missiles and artillery systems that were displayed at an airbase in southeastern South Korea.
In a televised speech, Moon said he felt "secure about the might of our military armed with new equipment such as F-35As that we disclosed for the first time." He said South Koreans would also be "very proud" of the military capacity.
South Korea will be acquiring 40 F-35 fighter jets from Lockheed Martin by 2021. The first few batches of the aircraft arrived in the South this year.
North Korea has sharply reacted to the deliveries, calling them a serious provocation that violates recent inter-Korean agreements aimed at lowering military tensions.
North Korea has long criticized the South's weapons acquisitions and its joint military drills with the US military as undisguised preparations for war that were forcing it to develop new short-range missiles.
Nuclear diplomacy largely remains hampered since the second summit between Kim and President Donald Trump in Vietnam in February collapsed.