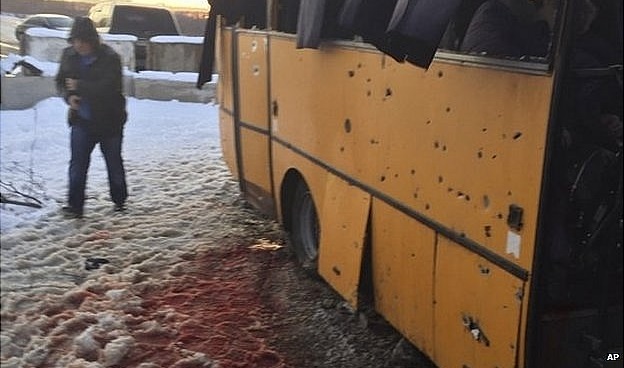 A shell has hit a bus in eastern Ukraine, killing at least 12 civilians and wounding many more, Ukraine's military says.
A statement said the incident happened at a government checkpoint in Buhas, about 35km (22 miles) south-west of the rebel stronghold of Donetsk.
The spokesman for the Interior Ministry in the Donetsk region, Vyacheslav Ambroskin said, the checkpoint was shelled from the direction of the town of Dokuchaevsk, which is under the control of local militia forces. The town of Volnovakha is under Kiev's control.
Donetsk regional officials blamed pro-Russian rebels but a report said rebel leaders had denied involvement.
Ukraine's Donetsk Prosecutor's Office has launched an investigation into the shelling, qualifying the case as a terrorist act, according to its press service. It said that the attack was "targeted" and "carried out by a Grad multiple rocket launcher using over 40 shells."
Fighting has intensified recently, despite a truce agreed in September.