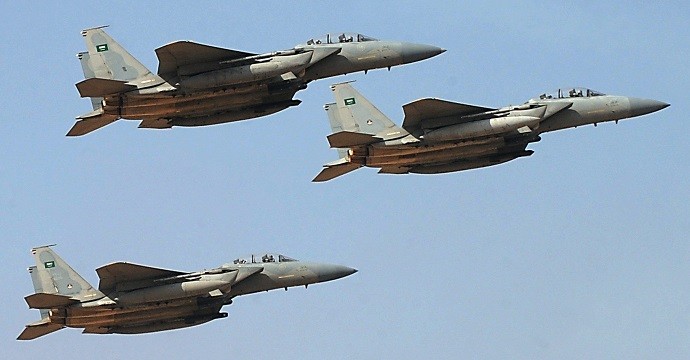 Saudi Arabian forces, joined by nine other countries, have launched a military operation in Yemen against Shiite Houthi rebels, the Saudi ambassador to the US said. The offensive, which started with airstrikes, will also involve "other military assets."
According to Ambassador Adel bin Ahmed Al-Jubeir, the military operation in Yemen started at 7 p.m. EST (11 p.m. GMT).
US President Obama has authorized the provision of logistical and intelligence support to the Gulf Cooperation Council (GCC)-led military operations in Yemen, the White House said in a statement, confirming that Washington had close communication with Hadi, the Saudis and other GCC states prior to the launch of the military operation.
"While US forces are not taking direct military action in Yemen in support of this effort, we are establishing a Joint Planning Cell with Saudi Arabia to coordinate US military and intelligence support,"the statement said.
Moreover, the White House urged the Houthis to immediately halt "destabilizing military actions" and to return to political dialogue with the deposed Yemeni government.
The Saudi-led coalition has declared Yemeni airspace a "restricted zone." Ships in the region have also been urged not to approach Yemen's ports due to the ongoing military operation.
More than 20 people have reportedly died and over 30 others were injured following Saudi Arabia-led airstrikes in Yemen, Sputnik news agency cited local security and medical sources as saying.
The majority of the strikes around Sanaa hit residential areas located near the capital's international airport. Government buildings and the airport were also hit during the offensive.
According to witnesses, residents are helping civil defense authorities in the search for any more victims under the rubble of houses damaged in the air raids.
Following the attacks, forces loyal to fugitive Yemeni President Abd Rabbuh Mansur Hadi seized control of the international airport in the southern port city of Aden.
Troops of the 39th Armored Brigade, who are allied to the Houthi Ansarullah movement, had earlier seized the facility.
The Al Arabiya News Channel reported on Thursday that Saudi Arabia has deployed "100 fighter jets, 150,000 soldiers and other navy units" for the military campaign in Yemen.
According to Yemeni sources, parachutists of Saudi-led forces have already landed in Aden.
Yemeni TV has announced that former president Hadi has fled to Oman.