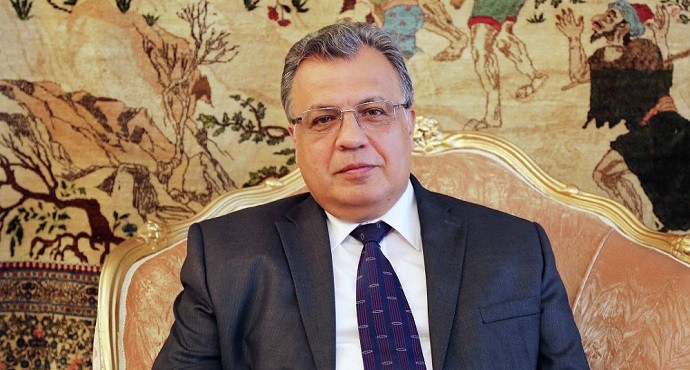 Russian ambassador to Turkey Andrey Karlov has been shot dead in an armed assault in Ankara
Russian Ambassador to Ankara Andrey Karlov has been killed on Monday following an attack by an unidentified gunman while visiting an art exhibition opening in the Turkish capital. Russian Foreign Ministry has confirmed the news.
"Today in Ankara as a result of an attack, the ambassador of the Russian Federation to Turkey, Andrey Gennadyevich Karlov, received a wound from which he died," foreign ministry spokeswoman Maria Zakharova said.
Russia has said it regards the killing of its ambassador to Ankara "as a terrorist attack".
Andrey Karlov was taken to hospital where he succumbed to injuries. Russian envoy was shot multiple times and seriously wounded. Local news channels reported several others wounded.
Russian Ambassador to Turkey Andrey Karlov was attending a photo exhibition "Russia in the eyes of Turks" in Ankara when he was attacked.
The assailant was 'killed' during an operation by special forces at the scene, the Contemporary Art Gallery in Ankara's central Çankaya district.
The gunman, a smartly dressed man in a suit and tie, was heard shouting: 'We die in Aleppo, you die here!'
Turkish NTV broadcaster says that three other people were also injured in the attack on the ambassador.
The attacker has been killed by Turkish Special Forces, Turkish Anadolu news agency reports. Russian Interfax, citing a source in the Turkish military, also confirms that the gunman was neutralized.
Eyewitnesses say that the Ambassador was shot while delivering the speech.
"The ambassador was delivering a speech at the opening of the exhibition, and suddenly, during his speech, there was a shriek 'Allahu Akbar!' — and someone started shooting," an eyewitness told RIA Novosti. "It is likely that the attack was aimed at the Ambassador because after the shots were made the assailant let those present escape the room."
PHOTO: Russian ambassador to Turkey #Karlov right before attack in Ankara https://t.co/oHK7ihF7ey pic.twitter.com/BycjUQn0KW

— RT (@RT_com) December 19, 2016
The shooting comes 24 hours before the Turkish foreign minister Mevlüt Çavuşoğlu is due in Moscow for talks with his Russian and Iranian counterparts.
President Vladimir Putin called an urgent meeting with foreign minister Sergei Lavrov and the heads of the security services.
This is a developing story and will be updated accordingly.