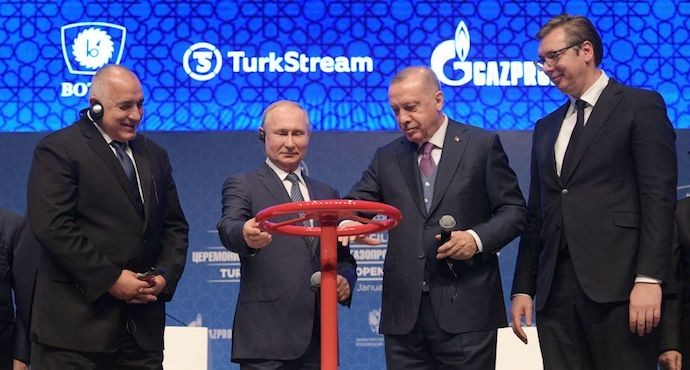 Russian President Putin and his Turkish counterpart Erdogan launch the Turkstream gas pipeline in Istanbul
The leaders of Turkey and Russia formally launched the TurkStream pipeline which will carry Russian natural gas to southern Europe through Turkey. The project was launched in Istanbul amidst rising tensions in the Middle East between the United States and Iran.
Presidents Vladimir Putin and Tayyip Erdogan inaugurated the project at a ceremony in Istanbul also attended by Bulgarian Prime Minister Borisov and Serbia's President Vucic.
Speaking at the inauguration ceremony, Turkish President termed the project "historic" in terms of bilateral ties and cooperation in the energy field.
The pipeline project, stretching 580 miles (930 km) across the Black Sea, reinforces strong energy ties between Russia and Turkey. Defense cooperation between the two countries has boosted after Turkey bought advanced Russian missile defenses last year. Moscow and Ankara are also coordinating military deployments in northeast Syria.
The TurkStream natural gas pipeline has a total capacity of 31.5 billion cubic meters, out of which the first line will carry a capacity of 15.75 billion cubic meters of Russian gas to Turkish consumers. The second line will carry another 15.75 billion cubic meters of gas to Europe via Turkey.
TurkStream is the southern counterpart of another new Russian pipeline, called Nord Stream 2, across the Baltic Sea to Germany.
Last month, the U.S. imposed sanctions on both TurkStream and Nord Stream 2 to counter "Russian aggression" in Europe.
Putin, Erdogan urge restraint in Iran crisis, ceasefire in Libya
Turkish and Russian presidents called for a ceasefire in Libya in a joint statement issued following an Istanbul meeting.
On the tension between Iran and the U.S., the two leaders said: "We are deeply concerned about the escalation of tension between the U.S. and Iran." They issued a joint call for restraint by Washington and Tehran