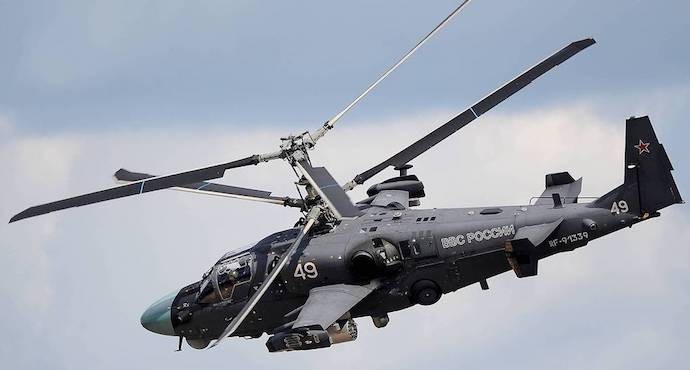 First upgraded Ka-52M attack helicopters for Russian troops likely by 2022
The Russian Helicopters Group has assembled the first two prototypes of upgraded Kamov Ka-52M 'Alligator' reconnaissance/attack helicopters. The deliveries of serial-produced gunships to the troops may begin in 2022, the company said.
"Today flight tests are underway on the territory of the Mil and Kamov National Helicopter Center and 2022 is the planned term of completing the experimental design work. We comply with this term and, considering the duration of the production cycle, we are ready to begin the assembly of Ka-52M helicopters already now to ensure the first deliveries of serial-produced rotorcraft next year," Yuri Denisenkov, Managing Director of the Progress Arsenyev Aviation Company said.
The enterprise developed two upgraded Ka-52M prototypes on the basis of the serial-produced helicopters, which are distinguished by improved characteristics and expanded combat capabilities.
The Ka-52 'Alligator' combat helicopter is designated to destroy tanks, armored and non-armored vehicles, manpower, rotorcraft and other enemy aircraft on the frontline and in the tactical depth, under any weather conditions.
The new Russian Ka-52M helicopter is equipped with an upgraded optoelectronic system with an increased target detection and recognition range, a new digital drive, which will improve the aiming accuracy when firing a cannon. The upgraded variant also received a new radar complex with an active phased antenna array and a guided missile with an increased range.
The Ka-52M main rotor blades are equipped with a powerful heating element, which will allow the helicopter to operate over an entire range of temperatures, including Arctic conditions. The helicopter is equipped with landing gear wheels with higher bearing capacity and wear resistance, as well as lighting equipment based on LEDs.
The modernized Alligator also has a new cockpit interior, which will ensure the fulfillment of modern ergonomic requirements, including night-vision goggles.