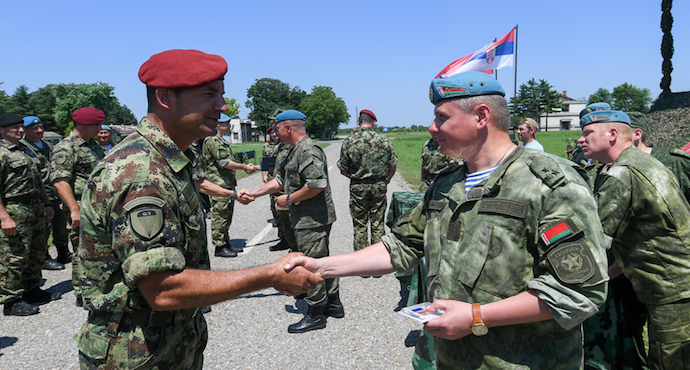 Russia sends S-400 missile defense systems for military drill for the first time outside the country
Russia and Serbia held successive joint military exercises which included Russia's first use of its advanced S-400 missile defense system abroad.
The joint military exercise titled 'Slavic Shield 2019′ demonstrates ever-growing ties between Serbia and Russia. It is the first time that Russia has used its flagship air-defense missile system, together with a Pantsir missile battery, in military drills outside the country.
The joint Serbian-Russian exercise was held from October 23 to 29 in Serbia.
Serbia's Defence Ministry said the exercise is aimed to simulate the "use of a joint (combat) group…in defending… against enemy reconnaissance and offensive actions".
"Apart from anti-aircraft missile systems in use in the Serbian army, missile systems that are in use by the Russian Air Force will also be used" in the live-fire exercise set to run until Oct 29, the statement said.
The two countries have recently also expanded intelligence cooperation.
Serbia declared military neutrality in 2006 and joined NATO's Partnership for Peace program in 2015 and it is also an EU membership candidate.
NATO said it "respects" Serbia's decision to hold joint air military exercises with Russia in which the Russian S-400 and Pantsir-S air-defense missile systems are being deployed.
"This is a matter for Serbia and Russia," the NATO statement said, adding that "Serbia is a NATO partner" and that the Balkan country has a "good and productive relationship" with the Western alliance.