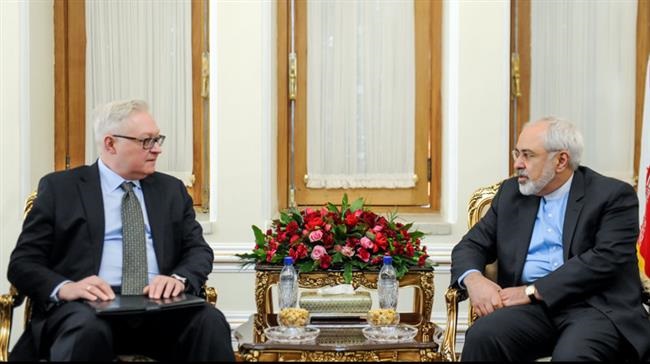 Iran's Foreign Minister Mohammad Javad Zarif says a more active Russian role will be crucial in accelerating a final deal between Iran and the P5+1 countries about Tehran's nuclear program.
In a meeting with Russian Deputy Foreign Minister Sergei Ryabkov in Tehran on Monday, Zarif commended Moscow's role in the process of nuclear negotiations between Iran and the six countries.
The meeting comes as Zarif and his American counterpart John Kerry are scheduled to meet in Geneva on Wednesday.
Iranian and American negotiating delegations will subsequently hold bilateral talks on January 15-17 in Geneva. Iran and the P5+1 group will also negotiate at deputy foreign ministerial level on January 18.
Nuclear negotiators from Iran and the P5+1 group – the US, Russia, China, France, Britain and Germany – wrapped up their latest round of talks on Tehran's nuclear program in Geneva on December 17, 2014.
The three-day Geneva discussions were held almost three weeks after Tehran and the six countries failed to reach a final agreement by a November 24 deadline despite making some progress.
The two sides agreed to extend their discussions for seven more months until July 1, 2015. They also agreed that the interim deal they had signed in Geneva in November 2013 should remain in place during the negotiations.
The Iranian minister further stressed the importance of improving Tehran-Moscow relations in different fields given their great potential.
Zarif said the two countries must hold more political consultations and exchange views on the most important regional and international developments.
The Russian official, for his part, said that his country plays a responsible role in the nuclear negotiations.
Russia should make use of its potential to help resolve remaining issues on Iran's nuclear program at the earliest, Ryabkov added.
He expressed Moscow's full preparedness to strengthen effective cooperation with Iran on key regional and international issues.