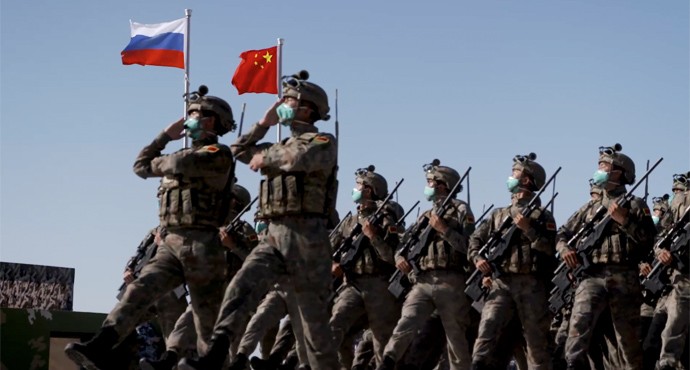 10,000 ground personnel participated in Zapad/Interaction-2021 exercise
China and Russia concluded the five-day joint military exercise "ZAPAD-INTERACTION-2021" on August 13, 2021 at Qingtongxia tactical training base, in northwest China.
About 10,000 ground troops and air forces of Russia and China participated in the joint military drills.
According to Chinese military statement, about 100 aircraft and more than 200 tanks and armored vehicles were used during the exercise. Russian Sukhoi Su-30SM fighter aircraft, motorized rifle units and air defense systems were also used in the exercise, according to Russian military statement.
China's Central Military Commission highlighted that more than 80 percent of weapons and aircraft used during the military drills were newly equipped. The joint drills also provided Russian soldiers an opportunity to use newly developed Chinese military equipment.
The main focus of the exercise was to strengthen the counter-terrorism capabilities of Russia and China and to repel threats emerging from neighboring Afghanistan. China's official Xinhua News Agency noted that the exercises between China and Russia were aimed at deepening "joint anti-terrorism operations" and "demonstrate the firm determination and strength of the two nations to jointly safeguard international and regional security and stability".
The Director of operational planning and control element at China-Russian Joint Command Huang Hongyuan told CGTN that "the joint planning command drill use special line and video link for on-site coordination. It unified tasks to lock down targets, mobilize forces and coordinate supplies, all the while forming a plan for joint operation".
The Zapad/Interaction 2021 comes amid the destabilizing situation in Afghanistan after the U.S. withdrawal. Both China and Russia are increasingly concerned about the security threats to the region emerging from Afghanistan.