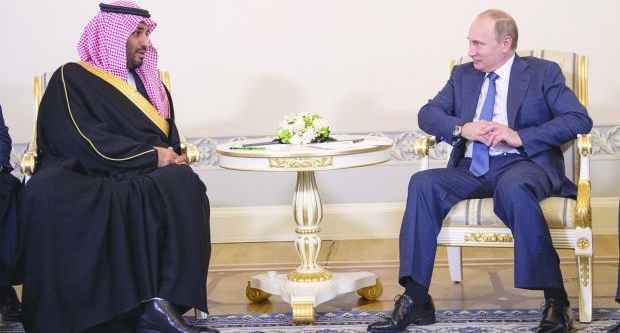 Russia and Saudi Arabia ink six new deals, embark on new 'Petroleum Alliance'
A number of cooperation documents were signed by Russia and Saudi Arabia on 18 June 2015 after President Putin met with Saudi Prince Mohammed in what was one of the most anticipated meetings at the international economic forum in St. Petersburg.
Russia and Saudi Arabia have signed six agreements in total, Al Arabiya News reported. A cooperation agreement on a peaceful nuclear program was among the documents, the press service of Russia's nuclear agency, Rosatom, said.
The news comes after Saudi Deputy Crown Prince Mohammed bin Salman bin Abdulaziz met with Russian President Vladimir Putin at the Konstantin Palace in St. Petersburg on Thursday after arriving in Moscow late Wednesday in an official visit, the state-run Saudi Press Agency (SPA) reported.
Oil ministers of Russia and Saudi Arabia also plan to discuss a broad cooperation agreement at an economic forum in St Petersburg.
Saudi Arabia is the top producer in the Organization of the Petroleum Exporting Countries and the world's top oil exporter, while Russia, which is not an OPEC member, is the second biggest oil supplier to the global markets.
One source said the agreement to be discussed between Russian Energy Minister Alexander Novak and Saudi Oil Minister Ali al-Naimi would not be about joint oil production or export strategy.
Russia has stepped up contacts with OPEC after oil prices plunged last year, but it has dismissed any suggestion it might cut output to prop up prices. OPEC has also refused to curb its output in order to defend market share.
A spokeswoman for Russia's Energy Ministry confirmed the meeting but declined to comment on the agenda.
Prior to the meeting to meeting, the Saudi ambassador to Russia Abdulrahman Al-Rassi said Moscow has an "important" role in implementing a Security Council resolution on Yemen, SPA reported him as saying on Thursday.
Rassi said there was an agreement between Saudi Arabia and Russia on maintaining legitimacy of Yemeni President Abd Rabbu Mansour Hadi's government, and that Moscow was key in implementing Resolution No. 2216, which demands that the Iran-backed Houthi militias withdraw from all areas seized during the latest conflict and relinquish arms seized from military and security institutions.
He said Russia's role was also "important" when it comes to regional countries such as Iran, stressing that Russia was a super and important power in the Security Council to "maintain stability and security in the world."
He added: "I think that Russia is feeling this responsibility and we always hope and talk with Russian officials on the Iranian issue or other. I do not think that Russia's interest is in the instability in the region and this is certain."
The Saudi atomic and renewable energy body has already signed nuclear cooperation deals with countries able to build reactors, including the United States, France, Russia, South Korea, China and Argentina.
It is not clear if this new deal, announced on Thursday, will take cooperation with Russia to a more advanced level.
Saudi Oil Minister Ali al-Naimi was due to meet his counterpart Russian Energy Minister Alexander Novak in St Petersburg on Thursday to discuss a broad cooperation agreement.
In 2012, Saudi Arabia said it aimed to build 17 gigawatts (GW) of nuclear power by 2032 as well as around 41 GW of solar capacity. The oil exporter currently has no nuclear power plants.
Nuclear and solar power stations would reduce the diversion of Saudi Arabia's oil output for use in domestic power generation, leaving more available for export.
On June 17, Saudi deputy crown prince and defense minister Muhammad bin Salman (a.k.a. MbS) arrived in Russia to meet with President Vladimir Putin. The visit, which was kept secret until a few hours before he left the kingdom, follows a series of recent communications between Putin and the prince's father, King Salman.