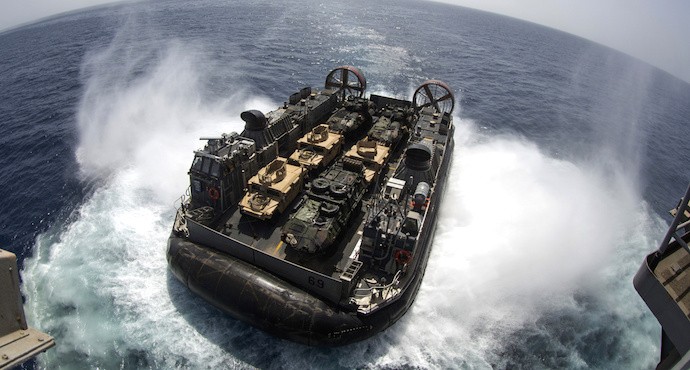 Rolls-Royce to supply $40M engines for LCAC 100 class craft
News, US
November 18, 2018
1 Comment
Rolls-Royce to deliver marine turbine engines for LCAC 100 class craft
The U.S. Navy has awarded Rolls-Royce Corp. $40.8 million for the procurement of marine turbine engines for Landing Craft Air Cushion (LCAC) 100 class craft, according to a statement by U.S. Department of Defense.
This procurement of 20 production MT7 marine turbine engines for LCAC is in support of the Ship-to-Shore Connector program.
Each LCAC 100 craft incorporates four MT7 engines. Work to be performed includes the production of the MT7 engines and delivery to Textron Marine Systems for the assembly of the LCAC 100 class craft.
The work will be performed in Indianapolis, Indiana, and is expected to be completed by January 2020.
The MT7 combines modernized turbine materials and technology to provide a state-of-the-art power system for  a range of naval applications such as main propulsion and power generation.
The MT7 is the latest Rolls-Royce gas turbine to be selected to power a major U.S. Navy program, and follows the MT30 which is already powering the Freedom class Littoral Combat Ships and will provide electrical power for the DDG-1000 Zumwalt class destroyers.
Landing Craft Air Cushion
First deployed in 1984, Landing Craft Air Cushion (LCAC) transformed amphibious operations. LCAC is a high-speed air cushion platform that floats just above the water. It can carry heavy payloads and large numbers of Marines from the well-deck of an amphibious ship stationed up to 100 miles at sea. It transports weapons systems, equipment, cargo and personnel of the assault elements of the Marine Air/Ground Task Force both from ship to shore and across the beach.