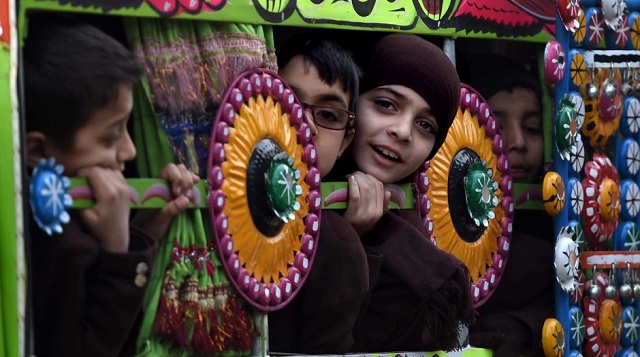 Schools in Pakistan's northwestern city of Peshawar reopen for the first time since militants killed 150 people, most of them children, in an attack on a military-run school in the city.
Peshawar's schools, including Army Public School that witnessed the deadly Taliban attack in mid December, resumed their classes on Monday amid tight security measures.
High boundary walls with steel wire fencing have been installed in schools across the country.
In Peshawar, security forces have been deployed at the main entry point of the Army Public School, with a security gate erected at the front.
Most schools across Pakistan had been shut for an extended winter vacation in the aftermath of December deadly terrorist attack.
Following the attack, directives were issues for educational institutions across the country to ensure that complete security arrangements are made. The winter vacations for all government and private schools were also extended till January 12 due to the security concerns.
On December 16, a group of pro-Taliban militants stormed an army-run school in Peshawar and killed about 150 people, including 132 students. Some 120 students were also injured in the raid.
Tehrik-i-Taliban Pakistan (TTP) claimed responsibility for the assault, saying it was carried out in retaliation for the Pakistani army's major military offensive in North Waziristan tribal area which borders Afghanistan.
The Pakistani army started an operation against militant hideouts in North Waziristan in June after a deadly raid on Karachi Airport ended the government's faltering peace talks with pro-Taliban militants.
Following the Peshawar attack, Pakistan lifted the moratorium on the death penalty in place for about six years. Seven militants have since been hanged and two more will be executed on Wednesday.