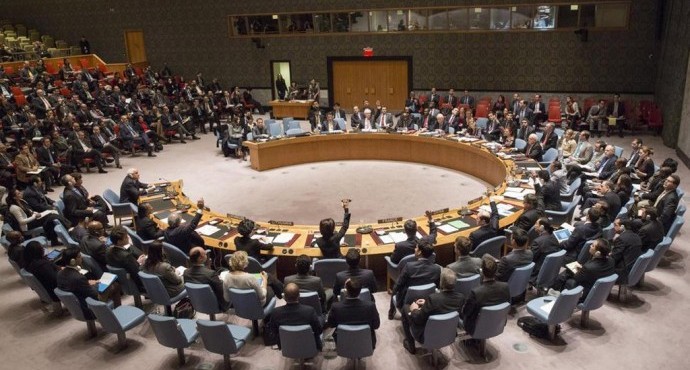 United Nations Security Council has failed to adopt a draft resolution demanding end of Israel's occupation of Palestinian territories within two years as Australia and the United States voted against the proposal in New York on Tuesday.
The draft outlines the proposed solution – a one-year deadline for negotiations with Israel and a "full and phased withdrawal of Israeli forces" from the West Bank by the end of 2017 – and would have welcomed Palestine as a full UN Member State within the 12-month timeframe, urging both parties to build trust and negotiate in good faith.
"The Security Council has once again failed to uphold its Charter duties" said Riyad Mansour, Permanent Observer for the State of Palestine, adding that the draft was tabled in the face of a political impasse caused by "Israeli intransigence".
The Arab coalition's bid calling for the creation of a Palestinian state and an end to Israeli "occupation" gathered only 8 votes in favour, so it was automatically defeated. The veto power US and Australia voted against the move with 5 abstentions.
Another veto power state, the UK, along with Lithuania, Nigeria, Korea and Rwanda have abstained from the vote.
Current Council President and  Chad's representative, Mahamat Zene Cherif said the Council had missed an opportunity give the Palestinians "a ray of hope" after direct talks yielded almost nothing.
US ambassador to the UN Samantha Power said the proposed resolution was "one-sided" and failed to take into account Israel's legitimate security concerns.
Power's comments were echoed by Australia's representative Gary Quinlan, who said the proposed text "lacks balance and seeks to impose a solution put forward by one party alone".
Eight of the Council's 15 members voted in favour, one fewer than the nine members needed to pass a resolution in the absence of a veto by any of the Council's five permanent members – China, France, Russia, the United Kingdom or the United States.
But even if the required nine UN votes were achieved, the US would have been able to use its veto power as a permanent member of the security council. China, Russia, Britain and France are the other veto-wielding permanent members, with Australia among the 10 non-permanent members.
The timing of the vote caught some by surprise, as some expected it would be delayed until the New Year and a change in the council membership as Australia and Rwanda are to complete their temporary two-year term in December, with incoming members New Zealand, Malaysia and Venezuela believed to be sympathetic to the Palestinian position.
UN Security Council vote on Palestinian draft resolution
YES: Jordan, China, France, Russia, Luxembourg, Chad, Chile, Argentina.
NO: United States, Australia.
ABSTAINED: United Kingdom, Lithuania, Nigeria, South Korea, Rwanda.