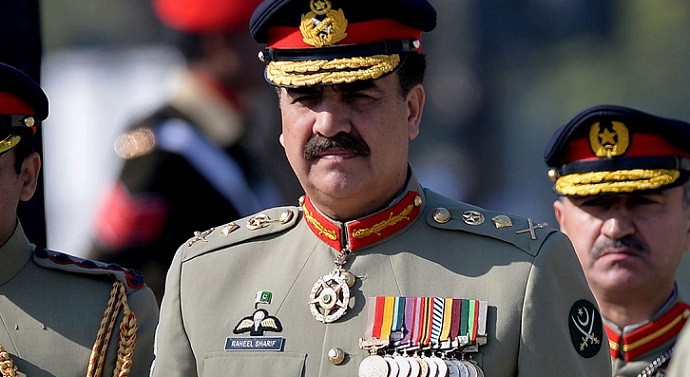 Pakistan's former army chief Raheel Sharif appointed as chief of 39-nation Islamic military coalition to combat terrorism
Pakistan's recently retired army chief General Raheel Sharif will head the Saudi Arabia-led 39-nation Islamic military coalition formed to combat terrorism, country's defence minister Khawaja Asif confirmed on Friday.
The headquarters of the new Islamic coalition would be based in Riyadh.
The minister said Gen (retd) Raheel, who retired in November 2016, was posted after clearance from the army's General Headquarters and in accordance with the government's will. "This thing was in the pipeline for quite some time and the prime minister was also part of the deliberations," Asif said.
In 2015, Saudi Arabia had announced the formation of a 34-state Islamic military coalition to combat terrorism and Pakistan was made a member of the coalition. The number of members increased to 39 in March 2016.
Pakistani leaders were initially taken aback when Saudi Arabia, without proper consultation with them, had announced in 2015 that Pakistan was part of the new alliance to combat terrorism.
However, later Pakistan government confirmed its participation in the alliance, but had said that the scope of its participation would be defined after Riyadh shared the details of the coalition it was assembling.
The coalition was formed to serve as a platform for security cooperation, including provision of training, equipment and troops, and involvement of religious scholars for dealing with extremism.
The coalition includes countries like Turkey, United Arab Emirates, Bahrain, Tunisia, Sudan, Malaysia, Egypt, Yemen, Kuwait, Nigeria, Oman, Qatar among others.