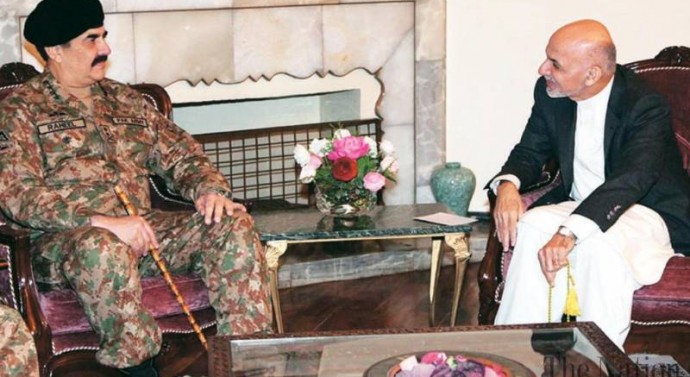 Pakistan's Army Chief Gen. Raheel Sharif arrived in Kabul on Wednesday, just a day after the Peshawar attack, to meet with Afghan President Ashraf Ghani to discuss combating terrorism in both countries and the region.
According to the Presidential Palace media release, Ghani expressed his condolences to Sharif and the nation of Pakistan in regards to the innocent lives lost in Tuesday's horrific attack on a military-run school in Peshawar.
He said that the attack witnessed in Peshawar was an "attack on Afghanistan, Muslims and humanity," emphasizing that the insurgents were the same who attacked the youth in Yahya Khail district of Paktika province and Lycee Istiqlal High School.
"These terrorist attacks should not only be condemned by words, but a strong stance should be taken against those behind it," the statement quoted Ghani. "It is time for Afghanistan and Pakistan to jointly and honestly fight against terrorism and extremism."
Gen. Sharif, according to the press release, said that Pakistan is trying its best to hunt down those behind the Peshawar attack and serve justice.
"Afghanistan and Pakistan must fight terrorism together to prevent such incidents," the statement quoted Gen. Sharif.
Meanwhile, according to Pakistan's The Express Tribune, Gen. Sharif's reason traveling to Kabul was "to deliver a warning to Afghan authorities to take decisive action against sanctuaries of the Tehreek-e-Taliban Pakistan (TTP) or else Pakistan would go for hot pursuit."
Although, both sides during their meeting in Kabul emphasized the need for cooperation in order to counter terrorism and extremism in the region.
What began as an ordinary day in Peshawar, ended as the deadliest and bloodiest attack for the country. Insurgents stormed into a military-run school around 10 a.m. local Pakistan time killing more than 140 people, mostly children.
According to reports, the TTP claimed responsibility for the heinous crime, explaining that this was in "retaliation for a major military operation in the region."
Tuesday's attack has drawn strong condemnation from the around the world; from world leaders to ordinary people, social media was buzzing with black profile pictures and a statement that left many feeling uneasy: "the smallest coffins are the heaviest."
The bodies of the victims were laid to rest that same evening.