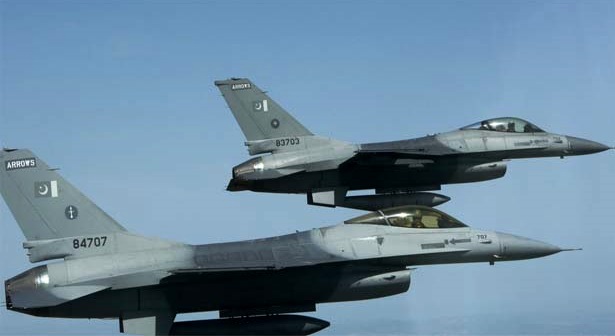 PESHAWAR (Pakistan) – At least 22 suspected militants were killed as Pakistan Air Force (PAF) jets destroyed a number of militant hideouts and other related targets in North Waziristan's Shawal region, said a statement from the Inter-Services Public Relations (ISPR).
The ISPR statement added that PAF jets targeted militant hideouts in Shawal tehsil, killing at least 22 suspected militants.
"Six of their hideouts and an unknown number of vehicles were also destroyed in the air strikes," the statement said.
"Fighter jets precisely hit the Taliban's hideouts at separate locations in Shawal," a security official in Peshawar told AFP.
Military operation Zarb-i-Azb was launched by the Pakistan Army on June 15 following a brazen militant attack on Karachi's international airport and failure of peace talks between the government and Tehreek-i-Taliban Pakistan (TTP) negotiators.
Since the beginning of Operation Zarb-i-Azb in June 2014, militants have fled to other tribal regions, including Khyber and its Tirah Valley and Shawal in North Waziristan, all of which border Afghanistan.
The Pakistani military says more than 3,600 insurgents were killed since the offensive began.