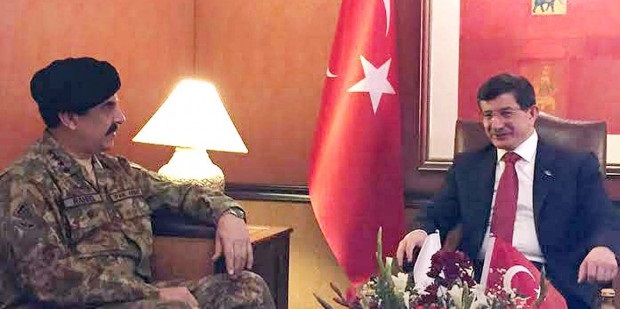 Pakistan and Turkey vowed to fight terror and deplored Islamophobia, which is on the rise in the West.
The Turkish PM, accompanied by a high-level delegation, landed in Islamabad on a two-day visit (17-18 February) to map out future course of Pak-Turkey cooperation in wide range of areas. In this connection, the 4th meeting of Pakistan-Turkey High Level Strategic Cooperation Council was held joint attended by Prime Minister Nawaz Sharif and his Turkish counterpart.
Later, the visiting Turkish dignitary met Chief of Army Staff (COAS) General Raheel Sharif and discussed with him the matters related to regional security and bilateral security and defence cooperation and collaboration. Turkish PM especially appreciated the successes achieved by Pakistan in its fight against terrorism.
Prime Minister Nawaz Sharif while addressing the 4th meeting of the Pakistan-Turkey High Level Strategic Cooperation Council in Islamabad along with visiting Turkish Prime Minister Ahmet Davutoglu, said that Pakistan and Turkey are indispensable partners working assiduously to promote peace and prosperity for their people and the region.
"Our security, defence and counter-terrorism cooperation remains robust. The MoUs and agreements signed today would further enhance bilateral cooperation in diverse fields – including economic and social sectors. We have no doubt that Pakistan-Turkey relations would continue to grow from strength to strength – serving as a powerful factor for stability in the region and beyond" Prime Minister Nawaz Sharif said.
PM Davutoglu said "Despite being geographically distant Pakistan and Turkey enjoyed an exemplary relationship. Turkey wants to make the brotherly relationship with Pakistan as result oriented as possible. Every Turkish prime minister considered it his duty to visit Pakistan on priority basis and that Turks consider Pakistan as their second home." The Turkish PM also announced the provision of $20 million aid for Pakistan in its counterterrorism drive.
Pakistan and Turkey have also agreed to sign a Free Trade Agreement (FTA) to enhance bilateral trade to $10 billion besides inking an additional protocol to strengthen the protection available to Turkish investments in Pakistan.
TNT/DT